Ratings are 0 to +5 Stars
5=Don't Miss It If You Can!
0=Don't Waste Your Time
Adult indicates Interest, not necessarily a sexual theme or violence.
All Ages indicates anyone older than 10
AN AMAZING BRAIN ADVENTURE A Million Stars
DON'T MISS!! All Ages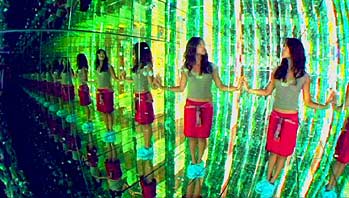 Okay, this is shameless and prejudiced self-promotion of my own film. Now you also know why the title begins with the letter "A". See www.MirrorMovie.com for clips, synopsis, etc. The DVD contains 5 hours of material, and is a bargain at $14.95 (includes shipping). Its fun, its musical, the leading lady is drop-dead gorgeous, the characters are entertaining, and it's very thought provoking to boot. Have Fun with your brain watching this over and over with your friends!
MILLIONS ++5 Comedy, Light Drama and More
DON'T MISS!!! All Ages
Wow Wow Wow! Just fantastic, a surprise at every turn- one of my favorite films of the year, if not any year. A kid finds a whole lot of money- and what happens. Really, don't miss this, it will stick with you forever.
RED +5 Drama and Romance, and Intrigue.
Adult and Teen Audiences because of one brief sexual scene
Foreign with English subtitles, part of a trilogy- Red, White, and Blue, this is the best of the three. I've seen this film 3 or four times, never fails to satisfy. Great story with a nicely unusual treatment, that will keep you guessing till the final moments. Some films accelerate to the very end, and then throw a knock out surprise- this is one of those. A real classic, beautifully done in many ways.
BATMAN BEGINS +3.5
Hey, it's a comic book character, but not a little kids film.
Well, they finally got it right. Nearly every Batman film, and the campy TV series has been trite, and for the most part nothing to write home about. The TV series at least didn't take itself seriously and was in its own way watch able. The previous Batman movies had all the makings of Hollywood blockbusters, i.e.....bleechh. By contrast, this film traces the roots of Batman and Bruce Wayne and does so in a way that maintains interest and retains the dark character portrayed in the comics, and does so in an artful way that is neither juvenile or silly. I was rather surprised, as the first half hour of the film gives the impression that it is just another in the long line of popular super hero films that lacks real character. Worth watching on a rainy day or week night, or when you can't find something really great.
DOOR TO DOOR +5
DON'T MISS for Teen and Older, young kids will probably be bored
With Bill Macy, Helen Miren
This is a wonderfully rich story based on the life of a physically handicapped door to door salesman, Bill Porter. An anti-thesis of a blockbuster, this is truly a miraculous movie that will almost certainly leave you with a greater appreciation of the potential of the human spirit and the purpose of life. Some people may not be attracted to the premise or main character- and these are exactly the kind of viewers who MUST see this film. Exquisitely acted and made, this film is not to be missed. Macy won a best actor award for this portrayal, much deserved. On DVD.
HARRY POTTER, THE PRISONER OF AZKIBAN +4
All Ages, except real little kids.
The best of all the Potter Movies by far, great story twists and turns. Non-Potter fans may not be so enthralled however- this may be an acquired taste and you will probably need to know the general environment.
The third in the Harry Potter adventures on film, out of the four thus far, this is clearly the best in my view. This film is neither a kids film, nor an overly adult film- closest to the nature of the books in general. A nice long film, it accurately reflects both the fun and adventurous and sometimes mildly frightening nature of the Potter stories, certainly a film that both older children and adults can appreciate and enjoy. Lots of great detail in the effects, although not overtly gimmicky. This chapter in particular has an exceptional story line, and thematic and plot twists that are thoroughly captivating and imaginative. The young actors do an exceptional job this time out, and are thoroughly convincing. A couple of hard to believe holes in the story if you are paying extremely close attention to detail, but in general once belief is suspended, this is a great fantasy ride.
4/29/06
The JUNIPER TREE +4
Adults
Bjork
Okay, okay, I'm a fully fledged Bjork Dork, I admit it. A very interesting black and white film in the style of Ingmar Bergman. Not much dialog, a lot of stark landscape, very serious. But quirky, and it keeps your attention- if you are not wishing for action packed car chases, sex, or violence. Based on a story by the Brothers Grimm, this is the tale of two sisters, their mother burned for being a witch in the bleak landscape of ancient Iceland, and how they find and adapt to a new home and family. A nice change from typical commercial fare. Bjork and the three other actors characters in the film are quite convincing, and the film rings true.
AMERICAN BELLYDANCER +3
Like dancing or pretty girls? This is for you.
Dance and Business Documentary
This is a documentary about the beginning of the world's first touring, world class bellydance troupe. Miles Copeland produced The Police in the 1980's and begun IRS records, a well known and successful alternative label in the 1990's. This is his latest project- taking an art form not in the mainstream of the entertainment world (Arab music and oriental "bellydance") and his attempt to elevating it to the level of River Dance and Broadway production for mainstream European and American audiences. The women are talented, and beautiful, and if you are already into this type of dance and music you'll have a much greater appreciation for the story than most people probably will. If the topic is new to you, it may make you a convert. the most interesting part is how this VERY successful producer starts over from virtual scratch, and does all the hard dirty work himself. A lesson to be learned by anyone trying to start a business.
PENN & TELLER MAGIC & MYSTERY TOUR +4
All Ages Non-Fiction Travel and Magic
Penn and Teller are a unique and often humorous major off-center magic act that has been headlining in Vegas for a number of years- quite a refreshing change from the overproduced schlock of David Copperfield and Siegfried and Roy. They have also hosted a humorous, but often on-and-then-off-the-mark de-bunking TV show called Bullsh*t on cable TV which I have in general enjoyed very much (with some exceptions). This is a wonderful and very unique and captivating travel DVD with a twist- they are seeking out magicians in China, Egypt, and India. They have left the often too-abrasive commentary at home, and display a much more honest and respectful personality in this feature- and it is extremely welcome. The places they go are not the typical pretty scenic fare of every other travel program, but rather a realistic life surrounding the magicians and magic communities of these three countries. Some of the scenes in China are really beyond belief- and they're real. Very cool.
THE DAY AFTER TOMORROW +1
Disaster Movie and this film is one.
This proves once and for all that Roger Ebert sometimes has got it completely wrong- on the DVD jacket- "Thumbs Up". Literally, this is a disaster movie in more ways than one. Yes, it has terrific special effects if you love seeing destruction and chaos on a massive scale. What it doesn't have is good writing and an interesting plot. All I could take was 15 minutes, then on to the next movie. This is typically what Hollywood would consider a potential blockbuster, like Independence Day or Star Wars-- but the story has no depth, the writing sucks, there is no real suspense-- just tornados destroying Los Angeles, people getting hit by giant hailstones in Tokyo, blah blah blah- yeah, you wonder how overblown the next special effects shot will be.....yawn. Godzilla was better, because it was at least laughable. This film tackles the attention needed subject of Global Warming, but does so in such a sensationalistic manner and Hollywood special effects manner, it is unwatchable.
ATLANTIC CITY +4 Drama, Romance
Adults
Drama semi-thriller directed by Louis Malle 1980
With,Burt Lancaster Susan Sarandon
Set in the early days of Atlantic City when it was making the transition to Casino Mecca, this is a highly personal story about low level hood in his golden years, and his relationship with both a woman of his own age and a young girl who lives in his apartment building. The film has some elements of a thriller with a few brief moments realistic violence, but is mostly a great portrait of an aging man trying to redeem himself in the eyes of others and in his own head. Well worth seeing.
The RING TWO +1
For Non-Functional Brains Horror Sci-Fi
With Naomi Watts
Boring boring boring BORING. A ring around the rosie boring. Teenagers with inactive frontal lobes will love this. The (original) Ring was a Japanese film about what happened to people who watched a certain video. It was a decent movie. Then came the rip-off American version in English for those incapable of READING (subtitles) and then this sequel to the first time through. Need I say any more. You have got to be REALLY desperate to sit through this one. I made it through about 10 minutes before I pulled it out of my DVD player, that I felt pity for.
CLOCKWISE +3
Teen and Above Comedy- but mostly for adult
With John Cleese
John Cleese in his typical role as an up tight authority figure who gets into an embarrassing jam. No big surprises here, but a decent way to pass your time. This time out Cleese is the headmaster of a rather average English school on his way to give a presentation to a conclave of other prestigious headmasters. Its his big chance to be important, and well.... you can guess. Somewhat predictable, but universes better than The Ring Two above.
MIDSOMER MURDERS +3
Adult Interest
English made for TV detective murder mini-series
Set in the well to do English countryside, this is a whole series of mysteries about a detective team in a pleasant county that seems to have an extraordinary large number of rather gruesome murders. Poirot this is not. At times fairly graphic, not particularly humorous (though it tries to be once in a great while), without any reallly memorable characters-- quite middle class. Kind of like middle aged Miss Marple. Its fine if theres nothing else readily available, but Jeremy Brent's Sherlock Holmes or David Suchet's Poirot are light years better.
PRIME SUSPECT 6 +5
Adult
English made for TV detective murder periodic mini-series
With Helen Miren
Now THIS is what modern detective/police murder should be. Stunning, riveting, and packs an emotional wallop that almost no other series has matched. Helen Miren is a miracle of consummate acting, supported with a truly excellent and interesting cast. A decidedly serious drama, but one that will keep you glued and thinking. This particular episode delves into issues of immigration and war, and the story is not one that you will not easily forget-- nor should you. This was the latest, and perhaps the best of the entire Prime Suspect series, that come out only once every several years. Highly recommended if you have the stomach for it. Definitely not for kids.
DEAD MAN +4
Teen and Older Alternative Western
With Johnny Depp and a lot of other odd stars.
This is like Quentin Tarrentino meets Clint Eastwood, but directed by Jim Jarmusch. Certainly, not your typical western movie, but yet contains elements of a speghetti western run crazy. Quite absorbing, everything about this film makes it quite original and enjoyable-- beware, it's also fairly gruesome in a few spots throughout. A wonderful interplay between characters-- and watch for the tribute to J.R.R. Tolkien's arguing troll sequence (The Hobbit) about halfway through (most people would not spot this, but obvious to me as I am quite a Tolkien fiend.) Very effective and haunting guitar soundtrack music by Neil Young.
NOVOCAINE +2.5
Adults with a LOT of time on their hands Black Comedy Murder Mystery
With Steve Martin, Helena Bonham Carter, Laura Dern
Gross. Steve Martin does his Cary Grant in Hitchcock impression. He fails. Barely interesting enough to keep me going. Not particularly funny, clever, or convincing- though it triies. Amazing what you can do when you're famous, once a respected comic, and rich. Skip it.
OCEANS 12 +2
Nobody Should Sit Through This Heist Movie Sequel
With a bunch of famous guys
12 yawns.
Nights of Cabiria +7
DON'T MISS!!! Do you hear me?!?
Teen and Older, Romantic, Drama, Comedy
1957, Fellini
This is possibly the best film by the best director, ever. Almost certainly my most favorite film, I've watched it a half dozen times or more, and it continues to give. Stuck on a desert island with one DVD ad a DVD player- this is the film I would want. A student of film? This is what you want to shoot for....
It's not Lord of The Rings, Star Wars, Godzilla, Independence Day, Citizen Cane, Saving Private Ryan, Gone With the Wind, or Lawrence of Arabia. Its not even The Wizard of Oz. Its better.
Get the restored Criterion Collection edition.
Shot in 1957 in black and white, Fellini's wife, Giulietta Masina plays the lead role of a prostitute down on her luck, and you will fall in love with her instantaneously. Nina Rota's musical score is quirky, memorable, and perfect as is everything about Cabiria. Remember these words, "Mambo Number 26." :-) Completely understated, the film touches your heart in a way that almost no Hollywood film ever has. It has soul, humor, and it makes a deep statement about life. What more can you ask of art?
The Aristocrats +1
Pathetic Waste of Celluloid
This should be called The Aristocraps.
Okay, there's this good dirty joke. You hear it after 10 minutes into the film, then you hear all these comics do variations on it. Oh boy. It never gets any funnier than the first quick telling. Most 6th grade humor is funnier than this film.
911: Loose Change The Final Cut +5
DON'T MISS!!!
Teen and Older Documentary on the "hidden" details surrounding 9/11
Not to be missed, and should be seen by every US Citizen- now. This is beyond words. You thought Orwell's 1984 was frightening? Well, you are living in something worse.
You can view for free http://www.loosechangethefinalcut.com/
Wake up, people.