GOOD HVLP Spray Gun Technique
If you've gotten this far in this web site you've now realized that the most efficient way to paint your car is using an HVLP spray gun and compressor- as opposed to the brush and sand and brush and sand and sand and sand and sand.....till the cows come home $50 Paint Job Myth.
Not only will the paint last WAYYYYYY longer, but it will look better as well, and require a fraction of the work-- and cost about the same to do it properly.
Below: My own 1986 Honda Civic HVLP low cost painted car (under $65 for paint), painted in a simple outside carport in 70 minutes, body repair done in one day previous, NO PAINT SANDING necessary: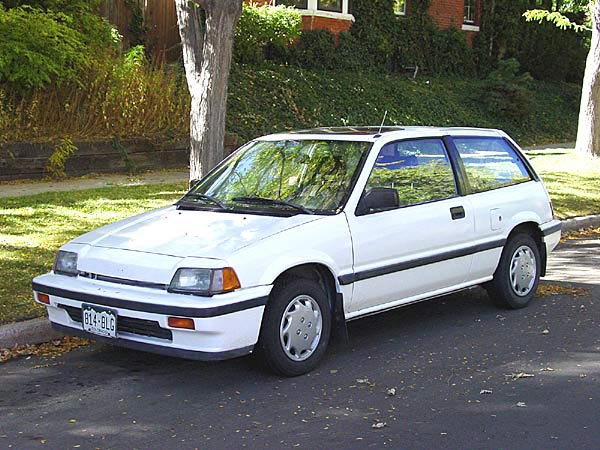 There are a couple of IMPORTANT things to keep in mind when spray painting and using catalyzed urethane paints:
1) ALWAYS ALWAYS wear a good charcoal mask at the very least when spraying.
Other than holding your breath, whenever you spray paint- even if it's from a can- there is no way to keep this stuff out of the most delicate part of your body- your lungs. Urethane is the most durable car paint there is, but in order to make it sprayable, very very strong chemicals are used. And make no mistake, these are not good to breath in, ever, not even in small doses.
People who spray cars for a living use FRESH AIR vented hoods and masks, because long term exposure to painting chemicals will kill you eventually. So for people who do this a lot-- you have a choice, get an expert fresh air system, or die.
Also keep in mind that you will absorb chemicals through your hands and skin very readily, so painting with a brush or roller does not protect you if you are applying solvents to clean off your hands--- wear disposable gloves and keep solvent use to a minimum. Further, you can also breath in vapors from rollers and brushes and cans as well.
If you only paint urethane once in a blue moon, you can get by with a GOOD double charcoal filter mask, available for $15-$30. This must have a rubber portion that goes over your nose and mouth, and seals PERFECTLY and tight. I am NOT talking about those "surgical" dust masks that cost under $3-$7. These will definitely not protect your brain and lungs.
Even the double charcoal filter masks are not made for strong toxic gases, and thus, I do not recommend these when using urethane unless you are painting in a well ventilated area to begin with, AND that you LEAVE the painting area immediately after you are done working, AND that you do not do regular painting using this kind of mask. Okay? Okay. No paint job is worth wrecking your health for.
2) Practice your HVLP spraying technique first for a smooth painting finish.
If you have never sprayed car paint with and HVLP gun before, it can be a bit tricky. Practice on a vertical surface first to make sure you can lay the paint down smooth without having it drip.
If you spray the paint on in a misty fashion, it will not dry smooth, and end up "matte" looking, and require a lot of finish sanding to get it smooth- and then you are not much better off than putting it on with a brush or roller.
NOTE: A slightly less than perfectly smooth paint texture may actually be desirable if your surface has a lot of defects and dents in it that you don't want to take the time to do a lot of body work on. If the paint is perfectly smooth and shiny- you'll in fact see every ding and dent in the surface that you've left. So in the cases of cars with lots of dings that you don't want to take the time to remove each one, mist the paint slightly by putting on lighter coats that don't self-level so much.
In most cases, however, you want the end result to be shiny and smooth, and this is the case if you've done really nice prep work and repair.
If you spray the paint on too heavy, it will be smooth-- AND runny, and you'll have drips on vertical surfaces.
If you do it JUST RIGHT, the paint will look WET and will SELF-LEVEL-- i.e. the surface will "run together" and create a nice smooth surface, that will require no sanding, or little sanding if you are going for a glass smooth surface.
SO- practice first, don't be in a rush. With five or ten minutes practice first, you can apply just the right amount of basecoat and clear that will be thick enough so that it levels out smooth, but not so much that it drips and runs.
3) Distance and Overlap-
A) Hold your gun about 12"-15" from the surface.
B) ALWAYS keep the gun moving, do not pause in any one spot, otherwise the paint will "puddle" then run. Paint past any edges.
C) Overlap each stroke about 50%
4) Preparation is key: The final job is only as good as your prep-work.
In the Honda example above, it actually took more time to mask the car than it did to paint it! The rust was removed the day before, and body filler applied. The entire car was sanded with 220 and a rotary electric sander, then gone over by hand with 400 to remove any traces of sanding marks left by the electric sander. No primer was necessary except over filler and bare metal exposed during rust removal. To get a perfect look at how perfect the final job will look, use primer over the entire car, and view in angled light very carefully. Repair or leave as-is- it's up to you how perfect or acceptable you find the imperfections in the surface.