NEW April 14 DOWNLOAD: 2017 ESP TEST 3B
Recommended listening in a hot bathtub, lights out, headphones.
April 4 DOWNLOAD: 2017 ESP TEST 2B
MUSIC FOR ESP/PARANORMAL/CREATIVITY RESEARCH STUDY
INSTRUCTIONS BELOW-
Visit BRAIN MUSIC EXPLORERS
For Music 4 ESP Downloads,
Full research study comments,
And more
A New BONUS BRAIN POP SONG- To Make You Smile and to Tickle Your Amygdala
* * *
Reading and becoming familiar with the research study below will take a few minutes of your time.
For any questions before, during, or after, please address enquiries to n AT neilslade DOT com (hyperlink removed here to avoid web robots)
PROCEDURE:
1) Listen with headphones in a quiet dark environment.
a) Best is a comfortable hot bath with the lights out.
b) Next is in bed before going to sleep.
c) Next is in a quiet dark room.
d) For some people, a quiet walk at night ofor the length of the audio.
Try any or all. Listen as is convenient, as little or as often as you like. Stop if you get bored, then restart again later in the day or the next day.
You may ask yourself a question before listening at the beginning of the new audio selection.
2) Give ALL of your attention to listening passively and effortlessly. Just enjoy the music. That's it. Relax and do not be concerned whatsoever with if you are getting results or not. The key here is let the music do it's thing.
3) When you notice any effect as defined below, simply send me an email ns AT neilslade DOT com
Spontaneous ESP means any kind of information that comes to you without direct sensory input. In this study the following
may occur spontaneously while listening, 1-4 days after, or while dreaming:
RESULTS TO REPORT:
a) A "daydream" visual lasting a few moments.
b) A voice- your own or another's inside your head.
c) An idea or insight.
d) A dream the following night or after.
.
Before each new selection- discontinue listening to the old selection.
S-ESP can occur while you are listening, or any time within a four day period following.
FOR ADDITIONAL DETAILED INFORMATION SEE:
FULL MUSIC FOR ESP RESEARCH STUDY REPORT HERE
http://www.neilslade.com/music/question.html
http://www.neilslade.com/SESP.html
Thank you very much for your participation.
Neil Slade
Director
Music 4 Esp Brain Research Study
SAMPLE MUSIC 4 ESP TESTS
RIGHT CLICK (if necessary) TO SAVE AND DOWNLOAD
rather than simply play in your browser.
TEST #3: for April 2015
From the Cosmic Conversations EXTENDED Album
Please go to this link to purchase the entire new Extended Version high bit rate:
(The streaming files below are at reduced bit rate to facilitate faster download and streaming here only).
You can listen to each separately, or all together for a 25 minute session. Try each or all for up to a week before
posting results to me- n AT neilslade DOT com
* * *
TEST #2:
RIGHT CLICK (if necessary) TO SAVE AND DOWNLOAD rather than simply play in your browser.
TEST #2 Music File Download 19 MB- 1 selection repeated - 14 minutes
* * *
More s
amples of the music used in the
Music 4 ESP Research Study:
Sample #1: (Neil Slade and Fred Poindexter, guitars)
Sample #2 (4 selections- guitars, piano, and quartet)
Sample #3 (from "A Starry Night, keyboard plus)
Deluxe Online Book and Music Set
or PHYSICAL BOOK/CD SETS:
2nd Edition eBOOK
300 pages
Includes both Kindle and Epub versions
for EVERY device and computer.
Neil Slade Brain Music Downloads:
Brain Radar Audio Catalyst
1. Organic Super White Noise
Plus Colorado Wilderness 2. Waterfall, and 3. Stream
Exclusively recorded/edited by Neil Slade (60 Min.)
Total Brain Music Audio Time 3.7 Hours!
Plus the 300 page Ebook "Brain Tuning"

Same content as set above-
PHYSICAL BOOK AND CD
BRAIN MUSIC EXPLORERS SET
Autographed 300 Page Printed
BRAIN TUNING Book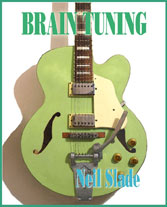 and
FIVE Physical CDS
"A Starry Night", "Cosmic Conversations- Extended"
"Piano Impressions From Another Dimension"
"Symphony/Tao of Jazz", "Brain Radar Catalyst"
Shipped USA Priority Mail
Just $49.95
All Cards and Paypal
Click button below:
(This particular physical set not available outside USA at present-
See this page for International books and sets shipped out of USA )