"Sarah Rubow was a precocious flute student of mine for many years, and she actually began performing music professionally at age 13. She was kind of shy about it, but never complained about getting paid afterwards, considerably more that what her babysitting jobs paid.
When I arranged a concert at The United States Air Force Academy in Colorado Springs, it was to be a full blown affair for the cadets: big PA, my own instrumental music, and some rock and roll. Knowing the audience would be a bunch of guys, I asked Sarah if she would like to get a couple of friends together and learn some background vocals to my pop songs. Again, she said okay and The Brain Revolutionaries were born.

The Brain Revolutionaries were a smash hit at the USAFA. We continued to give concerts with a variety of other singers joining in with Sarah. Scheduled to play at my high school reunion, another piano student of mine,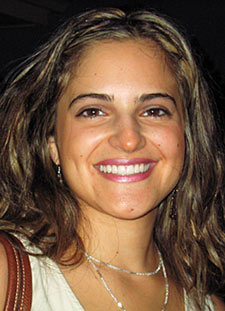 RUTI MOR had been begging me to join our group. Ruti learned all the songs by heart in a remarkably short time, and did a fantastic job. At one point during our performance, I broke a guitar string, and while I changed it I told Ruti "Do something!" She started making up this hilarious and bizarre version of "The Sound of Music" that had all of us in stitches. She was great-
Now at this point I must confess, doesn't EVERYBODY at some point want to be a ROCK and ROLL STAR??? Well, me too. Even though I had spent my whole life composing and performing instrumental music, Bach, Beethoven, Mozart, and all kind of modern stuff, I decided it would be fun to sing for a while. Consequently, we spent the next YEAR in the studio recording Amygdala Brainbites. We did a few gigs after that, including one interesting live radio show, and a 30 minute public television show, which today remains the most often repeated program in the history of that station.
By the way, we got our name when Sarah and I visited T.D.A. Lingo's Dormant Brain Research and Development Laboratory. Lingo, who had has own NBC TV show singing folk songs on the late 1950's, said "...blah blah blah something....the brain revolutionaries..." and Sarah blurted out "That would be a great name for our band!", and so it was. "