This holiday season I've been working on the physical attributes of one of my beloved instruments; a 1967 Hofner model 500/1 "Beatle" Bass guitar. Yes, what you've seen Paul McCartney play.

I bought mine a while back, discovered at a local music store. It is unique in being a very light weight and comfortable instrument to play, easily half the weight of a normal solid body guitar, but with a wonderful organic, real instrument 'woody' sound like a real string bass. It is hollow inside and resembles a violin, hence the nickname "violin bass".

Further, it has a very comfortable narrow neck unlike most electric or acoustic basses, perfect for someone like myself with small hands, and can be played like a guitar. Perhaps this is the root of some of McCartney's very melodic bass lines- (but probably more due to the connections inside his brain). When purchased it had already been re-finished many years ago, so I decided to at last remove a rather unflattering cracked solid black coat it had worn, and let the real wood underneath be seen again, seen below after my work...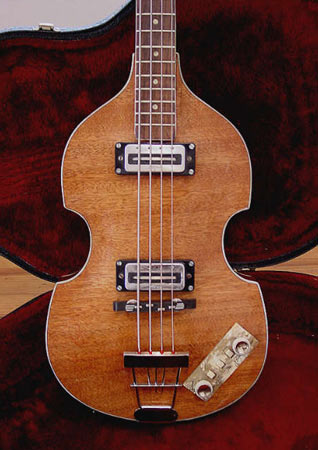 After removing the old finish and a few layers of thin laminate wood from the top, I put the strings back on to see if their was a change in sound. To my shocking surprise, I discovered that the over-thick layers of wood on the top were structurally important in holding up the bridge, and that the instrument was now unplayable. (The bridge is that horizontal piece just under the lower pickup on which the strings rest.)
This caused an immediate backwards click of my amygdala and a big feeling of "Oh gosh, what have I done...?"
The idea of ruining a collectors item, and a rather valuable instrument was a rather unpleasant scenario.
Fortunately, after about 25 minutes of repeated forward clicking effort (rather than total dispair), the frontal lobes worked out the silver lining. I merely inserted a soundpost inside the body under the bridge in exactly the same way a regular violin has a soundpost to support the bridge.
In the end, the thinned top actually improved the sound of the instrument. The appearance of the natural wood is extremely satisfying, and in many ways better than the factory finish.

Life is always a challenge and full of unexpected surprises.
The trick is to keep your brain-cool till your amygdala FULLY clicks forward into frontal lobes TOTAL brain solution. Don't give up the click, no matter how bad things look.
A Few Technical Notes:
For those interested in this sort of thing, the old finish was removed rather quickly with a random orbital disc sander with a bit of paint remover just in the tight curved spots. Paint remover is best kept away from valuable instruments. An electric sander however was necessary, as the old re-finish was very thick and hard.
The laminate top and back consisted of VERY thin crossed layers of mahogany with dark glue in between each. Getting a nice entire piece of wood without glue showing was much more difficult on the front than on the back- which took about three attempts and going through that many layers of laminate. The grain of the wood on the back
is vertical, and horizontal on the top (front). This process was particularly tricky on this instrument since both the top and back have ARCHED wood consisting of complex curves, rather than an easy to sand flat surface.
(Unfinished sanded instrument at right)

The neck and sides are of laminate maple or ash, but the old black finish had seeped deep into the pores which made it necessary to tint the finish to hide a few blemishes which were too deep to sand out on these parts of the instrument. The end result, however, made this a very wonderful silver lining: The contrasting sides and neck turned out a very rich color, with its own subtle varied shading, which further highlights the lighter top and back.
To color the sides and neck, I used earth pigment from the local art store. This is the same kind of material used to color oil paints, and allowed me to fine tune a color that would contrast, yet compliment the natural un-colored wood on the top and back. The headstock was left alone with the original "Hofner" decal, along with all of the original hardware on the rest of the instrument, including pickups, tuners, etc.

ORIGINAL POST:
I settled on a violin varnish rather than a regular varnish, plastic, or laquer, since the violin varnish would retain a lot more flexibility than the other finishes. Often musical instruments show stress cracks in the finish because the wood flexes or expands and contracts over time and temperature and humidity changes. Violin varnish prevents this to a much greater extent than other finishes.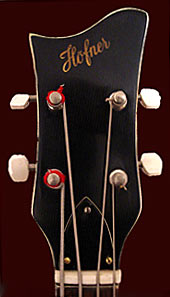 Unfortunately, it takes about 3 weeks total curing time to get really hard, so I can't play the bass for a while even though the finish has been applied and "looks dry". The entire refinish job took about five days.
UPDATE A YEAR LATER:
In the end, the violin varnish was a horrible mistake, and I will never use this stuff again. Not recommended unless you know someone who is an expert with the stuff, and can tell you more than I know. I'm not even sure it was my user error, but perhaps more related to unusual qualities of this finish material, which was purchased from a respected otherwise woodworking store. Either it was total crap, not what it claimed to be, terrible application instructions on the bottle and salesperson, or something I haven't identified. It may have been that I applied this material too thick and could only be applied very thin at any given time. However, I haven't made this mistake previous, and if it was meant to go on extremely thin, there was no mention of this to me anywhere, or by anyone. Regardless of this particular project finish, if done again, I would use lacquer on this type of wood and instrument- dries within minutes, and very hard and reasonably resistant to abuse- as used on Martin guitars and fine acoustic instruments. Lacquer seems to offer every advantage for a fine acoustic instrument over anything else- save that it has great odor during application, and much care should be taken for the lungs while using.
As for the violin varnish, the material took a full YEAR to fully dry- up to that point, marks from the cloth on my pant's leg would be left in the finish after a few minutes of playing, and/or my fingerprints would show up on the neck. Within a short period after fully drying twelve months later, and I had doubts that would even ever occur, the finish began the typical type of stress cracks from shrinking seen in very old instruments, and this ultimately covered every inch of the instrument (except for the front of the headstock, which I left alone). I actually don't look at this wrinkles as undesirable as it gives it a "vintage" appearance, but I've never had that problem with any other guitar finish I've ever applied.

Back to The Amazing Brain Music Adventure
Back to The Library From Another Dimension

The BRAIN BOOK and MUSIC STORE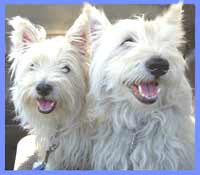 Chloe and Erfie

The AMAZING BRAIN ADVENTURE's MOST POPULAR PAGES:
BRAIN ADVENTURE!

Your BRAIN in 25 SECONDS (needs Shockwave)

ARTICLES: The LIBRARY FROM ANOTHER DIMENSION

DAILY BRAIN RADAR BLOG

What is "POPPING YOUR FRONTALS" ?

How Much Brain Do We REALLY Use?

IF I ONLY... Audio Song

Fun, yet highly educational...

BRAIN !POP! and BACKWARDS CLICK LESSON

OUR FIRST GLOBAL BRAIN EXPERIMENT DETAILS

NO-FEAR State of Mind

Easy Brain FAQs

Healing Hands

The Chinese Frontal Lobes Supercharge

Mind Motor Experiment

Brain Mandala Collection

Amygdala Reward

Global Lobe Telepathy

VIDEO

NEIL SLADE YOU TUBE TV

AN AMAZING BRAIN ADVENTURE MOVIE

SHOPPING

Books, Downloads, Audio, Music, CDs, DVDs:

The Brain Book and Music Store

SPECIAL LINKS

Painting From Another Dimension with Julia Lu

BRAIN PAINT YOUR CAR and MORE Quick Tips $50 Myth Base/Clear Heart of Painting DIY

Make Your Own Kindle Book or Ebook Here! 2

Painting From Another Dimension

BRAIN PRINTER INFO INK and REPAIR

Brain Dogs: THe eRfie and thE ChLoE sHOw

MUSIC, AUDIO and ART

BRAIN RADIO Stream and Podcast

BIG, BRAIN MUSIC STREAMING AUDIO PAGE

Visit the EXPANDED AMYGDALA ART GALLERY

Cosmic Conversations Album

A Starry Night Brain Bonus Album

ONLINE FORUMS

The DAILY BRAIN BLOG:

Newsletter Group

Yahoo Brain Explorers Yahoo Group Thousands of Posts)

BOOKS

The #1 Brain Book

The FRONTAL LOBES SUPERCHARGE

SECRET OF THE DORMANT BRAIN LAB

HAVE FUN! ANTI-RULES for Life, Learning, and Everything Else

COSMIC CONVERSATIONS Brain Essays

The BOOK OF WANDS

The Complete Brain Book Set

TESTIMONIALS

Tickle Your Amygdala- Is it REAL?

See what people say...

More Amazing Stories

EXTRAS

Our very own

ABOUT NEIL SLADE

1970's: The Dormant Brain Research Lab Gate

Feathers

Me On Tree

Teleportation

Our Brain Revolution Flag

4 Million Views: Dimensions

Broz's UFO

VIEWZONE Articles:

Fun With Body Putty

Brain Lab Photo Tour
Your Amazing Brain Adventure is a web site all about Tickling Your Amygdala- i.e. turning on the best part of your brain as easy as clicking on a light switch. This is done as easily as imagining a feather inside of your head stimulating a compass, the amygdala. The amygdala is a set of twin organs, a part of your brain that sits right in between the most advance part of your brain- the frontal lobes and pre-frontal cortex- and the most primitive part of your brain- your "reptile brain" and brain stem. By tickling your amygdala you instantly and directly increase creativity, intelligence, pleasure, and also make possible a spontaneous natural processes known as "paranormal abilities", although such things as telepathy and ESP are really as natural as breathing, or as easy doing simple math in your head. The ability to self stimulate the amygdala by something as simple as thought has been proven in laboratory experiments, such as those conducted at Harvard University research labs, 1999-2009, and can be tracked with modern brain scanning machines such as fMRI and PET... Indeed, thought is faster than light.
Other sites of interest:
EasyPaintYourCar.com is a painting site dedicated to learning how to paint a car yourself, even if you've never painted a car before. You can refinish your car to professional standards at home, better than if you take it to someone else, and enjoy doing it at a fraction of the cost of having it done in an expensive shop. You can repair dents, rust, and use the most durable real automotive paint, and even learn to apply it without any special or expensive gear, in a safe and enjoyable manner. Paint your car in your garage, car port, or even driveway. You can spray, use an HVLP gun, or even use a roller.
Easy Make A Kindle and Your Own Publishing are sites about self-publishing and writing, and how any person can publish materials, print, online, and electronic books. You can drop out of the corporate slave labor rat race and own your own life by writing and distributing your own books on the subject that you know best.
InkJetHelper.com is a web site about escaping from the ridiculous cost of ink jet printer ink refilling- and refilling your printer for pennies instead of $70 a shot. It also has useful tips about maintaining ink jet printers, especially Canon brand printers.
Julia Lu Painting is all about the creative works of Chinese painter Julia Lu, a modern master of oil and water color painting. Julia shares her creative secrets, ideas, as well as her art work.
Off-site links Neil on Lulu Car On Lulu Tribe Blogger Wordpress Cookbook Space PaintWordpress Tripod 2 Google Wands Amazon B&N Kindle Facebook Linked GooglePlus Coast2Coast Viewzone YouTube 2 Blogtalk 1 2 3 4 5 6 7 8 9 1 2 3 4 5 6 7 8 9 1 2 3 4 5 6 7 8 9 1 2 3 4 5 6 7 8 9 a b c d e f a b c e f g h i 8 7 6 5 4 3 1 2 a b c d e f g h i a b c d e f g h i j k l m n o p q r s r u v w x y