INTERNATIONAL UFO CONGRESS DVD
An absolutely mind blowing new 2005 presentation, with astonishing CLUSTER UFO video and photos, and much more.
This DVD is a live presentation by world wide respected journalist Jaime Moussan
at the 2005 International UFO Congress, attended by some of the best known UFO experts in the world. Jaime's presentation was EXTRAORDINARY to say the least. His presentation highlights Mexican UFO observations of late, up to spring of 2005 and includes some of the most important UFO documentation ever reported and studied.
Below: An astonishing and completely un-explainable and genuine red and blue UFO sphere generation from a "Sky Worm" in the sky over Mexico.
One of the most important ways to make your brain work better, is to continually stimulate it with NEW information.

Give your frontal lobes puzzles to solve, give it material for which there is no easy explanation.

Anyone who believes all UFOs are merely illusions to be dismissed- such a person is missing something tremendous to contemplate. This is superlative food for the brain.

EXPAND YOUR BRAIN- SEE SOMETHING ENTIRELY NEW

This is HISTORY in the making, and these objects we are now observing in the skies are unlike ANYTHING seen previously, unlike anything photographed previously- and they are happening in numbers unlike we have ever witnessed before.

Below:

One of the incredible close-ups of the UFO spheres.
CHAPTER CONTENTS and MORE PHOTOS SHOWN BELOW:
This DVD is sold AT our production COST and shipping, and includes our donation to International UFO Congress who has made this material available.
1 hour 35 minute Playing Time
Absolutely Secure Online Order- use these buttons for all types of payment:
Visa, Mastercard, Discover, Paypal, or Mail In Money Order--
Click this button to order IN THE USA $11.95 postage included
Click this button for ORDERS SENT OUTSIDE the USA
(International Global Priority AirMail included- $16.95 total )
DVD CONTENTS and personal "Authenticity Rating" by N.S.
:-)
Good lord, this is the MOST INCREDIBLE video regarding UFOs I have seen ever. This exact same phenomenon has been captured all over Mexico by all kinds of people, seen by hundreds of people- are we being INVADED by ships or even biological entities that number IN THE HUNDREDS? Gee, haven't read this in the New York Times-- they are probably too damn scared to print it. Your jaw will drop on the floor when you see this. Impossible to fake, this is the discovery of the century and you will go to bed wondering what on earth is going on now.... TEN STARS+.
Mexican Air Force Radar and Video of over 12 objects,following plane, live pilot reporting, this caused a stir around the world as these were well respected military people reporting this AND presenting the corroborating radar and film evidence- almost unheard of in military.

EIGHT

STARS
The sphere clusters (and I saw ONE of these myself in 2001 which I present HERE with full details) sometimes stand completely still in bizarre geometric patterns in the sky, sometimes move as a group without shifting position, and sometimes fly through the sky at enormous speed. NO these are not balloons!!! More
TEN STARS.
A more traditional diamond shaped craft over Mexico City, wonderful video segment. I showed this to my neighbor who had reported seeing a UFO from the balcony of her boyfriend's apartment recently (they both watched it for twenty minutes, un-believing what they were seeing). When she saw the video she exclaimed "THAT'S EXACTLY WHAT WE SAW!!"
SIX STARS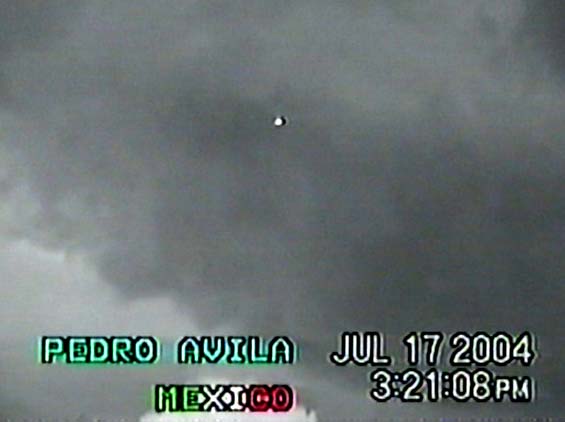 Infrared video of an object that does not show up in regular video shown side by side. Get out your Sony Night Shot camera! THREE STARS
This is quite amusing and entertaining- reported here to be proof of "invisible cloaking technology" Absolutely a crock of manure! It is VERY clever, but commonly used blue screen "chroma key" video, that presents the illusion of seeing through objects. Very clever, these Japanese kids who did this-- BUT more importantly, it makes you question the gullibility of the presenter who SHOULD KNOW the difference between a trick used in EVERY WEATHER MAP news presentation, and something genuine. This is REAL BRAIN FOOD- Why make this part of an otherwise respectable UFO presentation? Something to ponder carefully.

UN-RATED- but funny as hell that some people are fooled by this!
This is an

absolutely astonishing video clip of dozens of spheres moving through the sky. Absolutely NOT BIRDS. Again, unbelievable- but you'll have to when you see it. TEN STARS.
The spheres seem to be generated from these moving, undulating "sky worms" that are estimated to be 1/3 of a mile long, seen throughout Mexico, and presented in several amazing, amazing clips. The spheres come out of these tubes- is this a PORTAL from another dimension, the end of a "wormhole" or are these CREATURES we haven't defined yet, and the spheres are EGGS? !!!

TEN very very spooky STARS.
This is one of a set of very detailed 500mm long range telescope still photos from one of these sky worm videos. Note the red, blue and silver spheres generating from the side of this thing.

TEN STARS+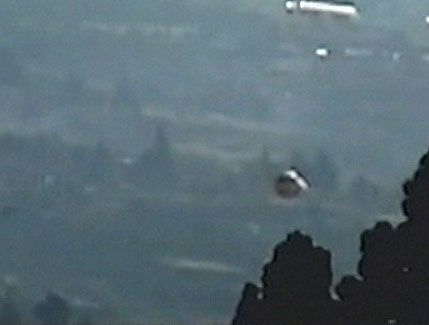 A really amazing video of a domed craft making a slow decent into a Mexican Valley. The motion of the UFO is steady and unwavering, and looks totally authentic.

Unlikely anything manmade. SEVEN STARS.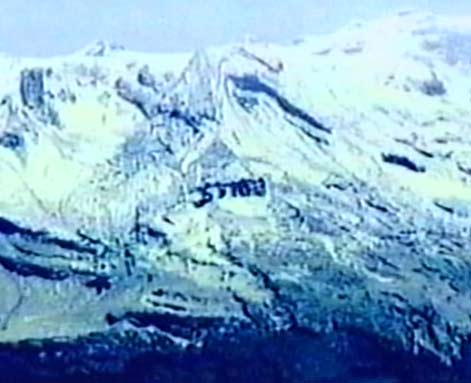 A bizarre evening of dancing lights witnessed by an entire village later revealed what appeared to be Hebrew writing high on the side of this Mexican Volcano the next morning. The message was analyzed by various Israeli experts.
SEVEN STARS
A variety of still photos of alien type creatures. The jury is still out, but one set of these photos is a good contender...These could be genuine, some are good and thought provoking, others less convincing. If you've been waiting for photos of "grays", this might be it at last
. THREE to FIVE STARS
.
An amazing variety of crop patterns is presented in this video along with a very plausible explanation to connection with UFO visits. I personally find this phenomenon quite amazing, and although people have been able to reproduce some crop patterns, I find it extremely implausible, if not outright impossible that humans are doing all of these, and certainly, not any significant portion. Research shows significant changes to the soil and plants impossible to create by human intervention.
EIGHT STARS.
You will be GLUED to your seat and will soon be sharing this with your friends and family, for at the very least, a vibrant discussion and eye opening night of video.
It looks like they are here. Now.
Whoever they are.
This DVD is sold at production COST and shipping, and includes a donation to the International UFO Congress who has made this incredibly fascinating material available.
STIMULATE YOUR FRONTAL LOBES with this new video that takes unidentified flying objects to the next level of consideration. This is generally very important and thought provoking documentation, no doubt about it.
Absolutely Secure Online Order- use these buttons for all types of payment:
Visa, Mastercard, Discover, Paypal, or Mail In Money Order--
Click this button to order IN THE USA $11.95 postage included
Click this button for ORDERS SENT OUTSIDE the USA
(International Global Priority AirMail included- $16.95 total )
OTHER BRAIN UFO PAGES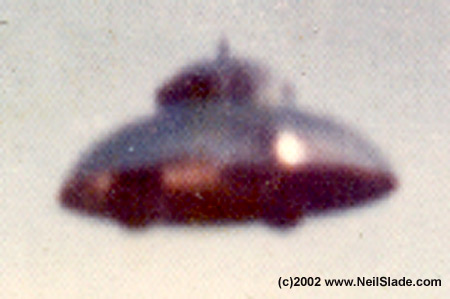 Updated East Denver Silver Sphere UFO incidents
Back to Brain UFO Central
This is also the OFFICIAL home page for
STAN ROMANEK
Stan's information has been temporarily taken off line while he prepares material for his feature film about the most amazing and important UFO/Alien/Government information yet, involving hundreds of witnesses, astounding video and photos, hard physical evidence, scientific discoveries, and more. No bull.
For upcoming details please join our Brain Info Newsletter Group or contact neil@neilslade.com
Join our group and you will receive great Brain Info Updates, Fun Stories and Brain Tips, generally once or twice a week. This list remains strictly confidential and will NOT be used for any other purposes whatsoever.
More at

The AMAZING Brain Music Adventure
and The Brain Book and Music Store

Turn on your own INFINITE brain potential for pleasure, creativity, intelligence,
and even natural spontaneous paranormal abilities.
Real brain power- not make believe hocus pocus.