Okay, ever seen or used those $30+ LCD screen shades that strap on IMPOSSIBLY to your cameras LCD?
Well, I bought one, and I wasn't exactly thrilled with it in actual use. They work OKAY, but they are really a pain in the ass to get on and off, and they don't work all that great to begin with.
You can make one yourself that costs next to nothing, and in fact works better, and snaps on and off in an instant. Okay, mine doesn't look expensive and high tech. I don't make films to look cool.
See the PITA (pain in the ass) $30 version on the left, and the DIY Better 25 cent one on the right below: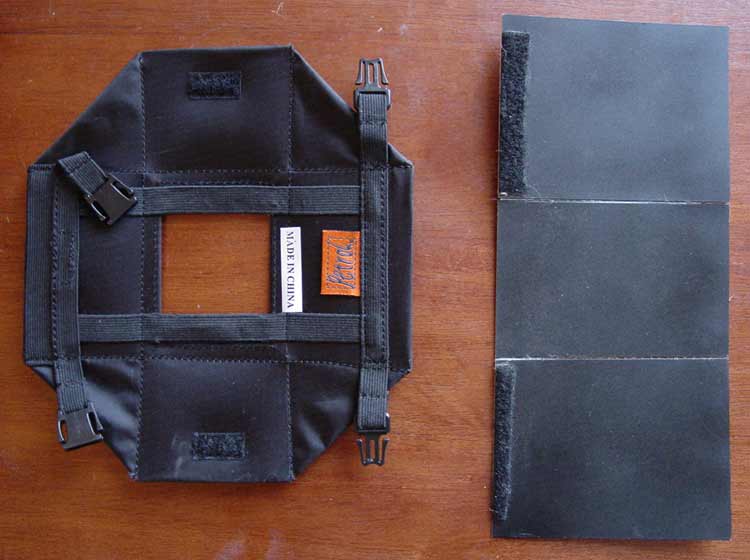 Here's what you need
1) Flat sheet of med/heavy posterboard or thin sheet of plastic.
2) A strip of velcro, both sides. Get this at a hardware store or sewing shop. You only need about 6 inches of this stuff.
3) A can of FLAT black spray paint.
4) Some immortally useful DUCT tape.
5)Contact cement.
---
STEP ONE: Cut out three rectangles from the posterboard or then plastic (rigid) sheet. For the life of me I can't remember where I got the plastic. It's not even as thick as a credit card.... maybe I'll remember eventually. Probably just in a school supply posterboard section at the drug store.
The dimensions for the DVX Shade are exactly this:
2 pieces 4 1/2" X 3 7/16"
1 piece (goes in the middle) 4 1/2" X 2 15/16"
(For other cameras just measure your LCD screen and adjust, try on, adjust some more if necessary.)
STEP TWO: Duct tape the three pieces together, the more narrow single piece on the inside.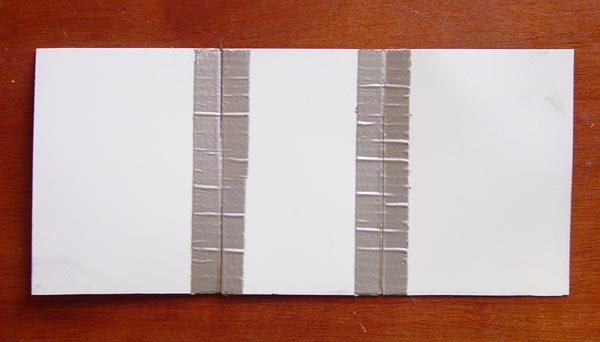 STEP THREE: Spray paint the opposite site Flat black. You can actually paint both sides black for looks. I've left the taped side unpainted here so you can see how it fits together. The photo here doesn't show it, but in person, this is totally non-reflective and pitch black. Here I adjusted the exposure so you can see the velcro better.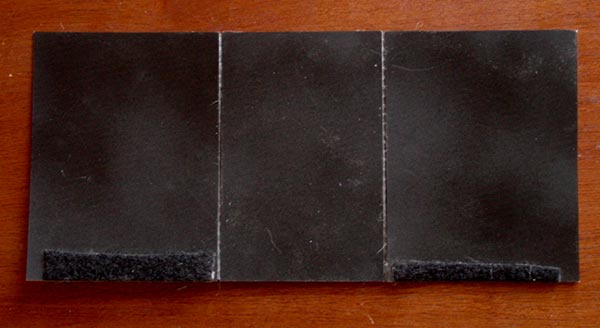 STEP FOUR: Once the paint is thoroughly dry, attach a thin strip of velcro cut to about 1/4" wide onto to black untaped side as shown above. Most velcro comes adhesive backed, but I used a little contact cement for real sticking power.
STEP FIVE: Cut the other side of the velcro, and similarly cut the width to about 1/4". Don't use the contact cement here, but use just the adhesive on the velcro to attach to your camera's top and bottom LCD flip-out screen edges. Don't worry, you can remove the velcro if you change your mind at any time.
But I can't see anybody not liking this system- it works really well.
But just don' take take the velcro on an off. The adhesive works once, but once removed, it doesn't have the same sticking power. The velcro is inconspicuous. On some cameras, the LCD screen mounting may not allow flipping the screen back into the closed position, so test before you start this project. It works perfectly on the DVX100. If you ever have to clean a little adhesive after removing, a bit of WD40 on a cloth will do the trick.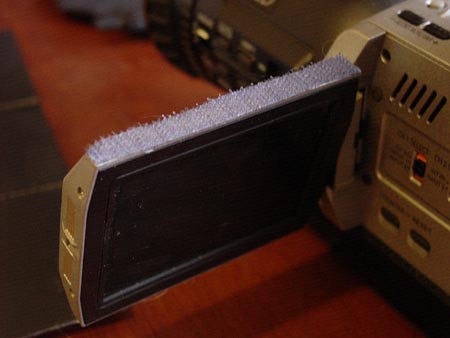 VOILA ALL DONE!
This LCD screen is deeper, provides better shading, and goes on and off in a flash, and stores in less space than the fancy smancy verson. Here it is in place- again, the outside now painted for that "professional" look ;-) The inside side of the LCD is shaded by the camera itself, as this design is three sided. In very rare instances a sliver of light may sneak in from the camera edge side, but my experience in the field with this shade proved that this almost never happened, and was not an issue at any rate, even in the bright sun.
This shade stays in place nicely and it never came off unless I wanted it too.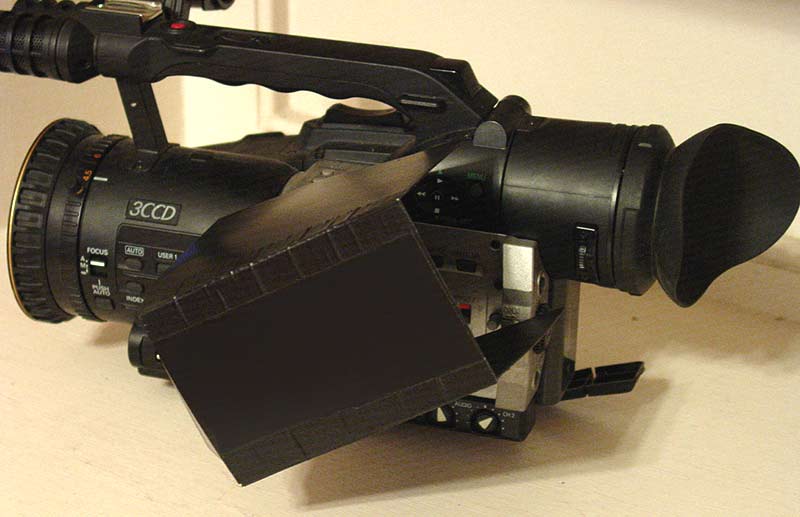 MY FEATURE MOVIE SHOT WITH DVX100 edited in Vegas 6.0
MORE COOL FREE VIDEO STUFF:
TRUE Widescreen Letterbox video on a Standard TV. Yes.
DVX100 .3X DIY Semi-Fisheye Lens Project
$40 GL2 .5X GL2 Super Wide Angle DIY Lens Project
Better and Cheaper Mike Boom Pole
EXTENDED Super Camera Jib/Crane Modification
Better Almost Free Flip-Out LCD Lens SHADE for Camcorders and DVX100
English and Scottish Windpals (wind noise protection)
Desktop PC DVD Burning 42X speed 3 Simultaneous Reliable Burns on 8X Media