Look at the prints below printed from the exact same files.
Give this page about a minute or so to load.
Then-
Pick your FAVORITE and LEAST FAVORITE PRINT
The prints are displayed in random order
and printed either on new high end inkjet models of a
1) Canon 9900i
2) Epson R800
3) HP 7960
First:
My tested and compared recommendation to most people for most applications for any brand printer:
Inkgrabber Ink
This is the ink I USE, and that I've tested to be superior to any of the dozens of available second and third party alternative inks. All inexpensive inks ARE NOT ALIKE- most others give inferior color. This includes off the shelf retail alternative cheap ink sold in places like Office Depot, Staples, etc- which is not good at all.
It is generally 75% less expensive than the cost of regular ink refills, with as good or better color than OEM. It is even less expensive when you but more than one cart at a time, and this is how I purchase ink.
There are cheaper inks than this-- but I don't use them...
Read HERE to find out why, the alternatives, and the difference between inks including image comparisons.
MAKE SURE AND MOVE YOUR IMAGE TO THE OPTIMUM LOCATION (center perhaps) IN YOUR MONITOR SCREEN
LCD MONITORS in particular have different levels of brightness depending on your angle of view, and an image will look different if placed at the very top or bottom versus the center.
When you are done picking your favorite in each row, then go all the way waaayyy down the page and see which printer you preferred.
This web photo was taken with a Sony S85 digital camera, manually white balanced, and original 4MP resolution, and this web compressed file is quite representative and accurate of the color differences between these printers.
Yes, some prints are darker, some are more vibrant, some look kinda' dull, etc.
Of course, if your monitor is poorly calibrated, this isn't good to be very helpful. So, calibrate it with your software, E-Color, or Adobe Gamma (look in your Control Panel, or display adjustment folder)
Having stood in front of this chart, I can say that the colors presented on this web page is really close to what is visible to the eye. Now you will finally see for yourself what I am talking about comparing printers.
Most printers are printing really fine resolution these days, so in that respect, they are all very close, and color, printing speed, ink cost, and long term performance and reliability are the biggest differing factors.
Many thanks to MIKE at COMP USA for this enlightening comparison at the Denver, Colorado Mexico Ave Store. Good people at Comp USA, and one of my favorite places to shop.
XP photo printing software used with this test was done entirely properly- each printer compared used the specific paper recommended by each manufacture for the printers used, i.e. The Epson printer used Epson Premium paper, The HP used Hp premium paper, and the Canon used Canon premium paper.
Mike found that the Canon fresh print had a smell to it- although I have printed thousands on my s900 and i960 Canon printer and have never detected anything that smelled offensive, or any smell at all. Mike also reports, "I had lots of problems trying to get the Epson's print heads cleaned." Lots of reports of clogging on the R800-- see conclusions below the prints.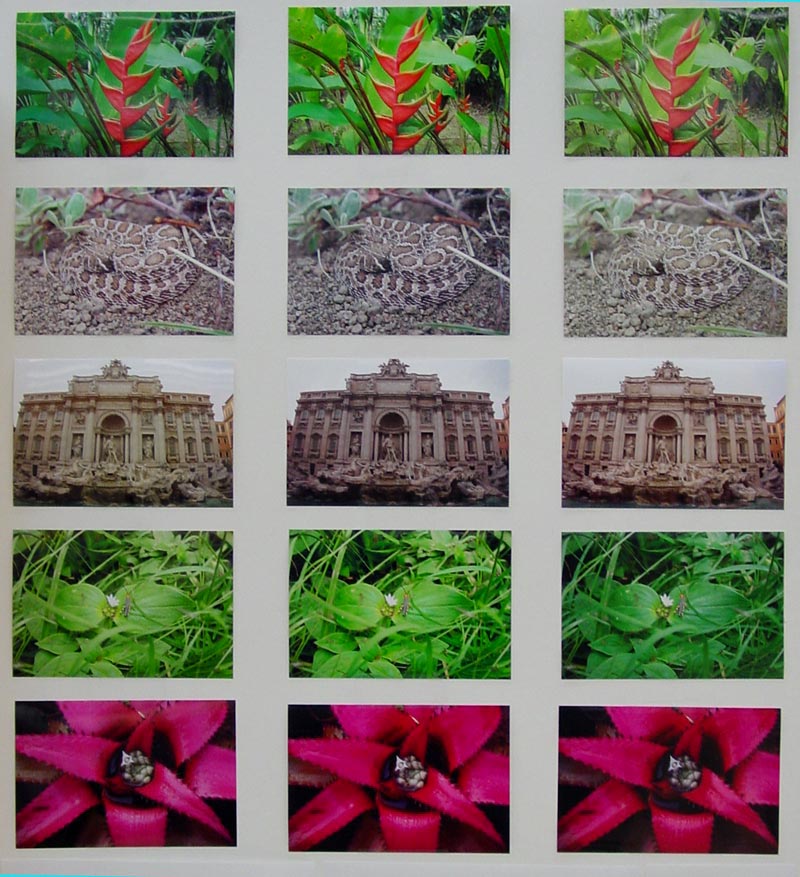 ANSWERS DOWN BELOW!!
Back to The Amazing Brain Music Adventure
Back to
The Library From Another Dimension
Back to The AMAZING Brain Book and Music Treasure Trove