Join our newsletter and you will receive great Info, Updates, Fun Stories and Tips, once or twice a week. This list remains strictly confidential and will NOT be used for any other purposes whatsoever.
At 02:18 PM 2/21/2012, Dave Tibbetts wrote:
Hi Neil,

You, sir are AWESOME!.

Thank you so much for putting together such an informative tutorial! Absolutely fantastic.

I didn't know the first thing about painting a car. But I read your material and watched the videos (over and over) and got the confidence I needed.

We're just so happy with the results! You don't know how many people have stopped me over the last couple days asking "You're car looks amazing! Where did you go to get your car painted and how much did it cost?"

When I tell them I did it in my garage over the weekend for a couple hundred bucks, they're floored. Can't thank you enough, man!

Cheers,
Dave Tibbetts
Oviedo, Florida
* * *
Thursday, September 8, 2011
Thank you for the link info - I couldn't imagine how easy you explain all the process and I am very thank full of what you do. I will apply the basic steps of your video and I am sure that I will end with a very good results....Thanks again!!!-
Manual Roman
NEW! Water Based Water Bourne Automotive Paint
PREVIEW - Intro DVD VIDEO CLIP HERE
NEW! SCOOTERS, BIKES NEW! Motorcycles
NEW! Guitars and Musical Instruments
FOREWORD
First of all let me say I am delighted that this page has proven so popular, and that it has been the #1 page on Yahoo and Google for the search "HOW TO PAINT A CAR" and similar searches for several years now- with TEN TIMES the visits of the next nearest site.
Read REAL Feedback From People Like You
Why? Because IT WORKS, ITS EASY, and You Can Achieve FULLY First Class Permanent Pro Results taught by someone who's been a teacher for 30 years. And I make it affordable to everyone to learn how.
And no- You can't get good instruction from watching just a YouTube video (slyly made to sell Google advertising), or reading a piece-of-junk manual given away to lure you into spending big bucks on an overpriced web course or DVD.
BEWARE the web sites created by CEOs to generate advertising income. (Monster, eHow, etc). I just looked at a couple of these today- oh my god. They have a lot of bad information, contain mistakes, and leave out so many important things you NEED to KNOW. Then I read the "free" stuffed-with-junk manual given away on another $$$$$ site. OMG. I wouldn't wish that kind of "help" on anyone.
I will show you how to do a GREAT job on your car- simply, and affordably, with instructions that tell you what you need to know without spending a bundle.
HERE, you'll get the BEST INFO shown and explained in the most clear way possible. The EXACT Methods used by the best automotive and repair people anywhere- people who are my best friends.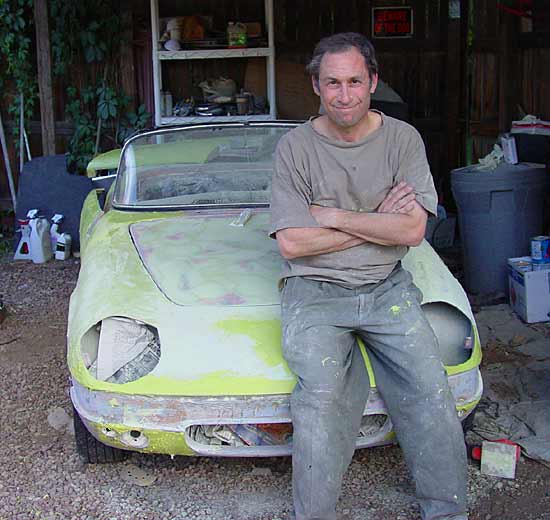 The page has LOTS of unsolicited testimonials to show what people like you are getting from this page and my materials-- so you know this is REAL, and really USEFUL info.
AND I AM HERE 7 DAYS A WEEK, TO PERSONALLY ANSWER YOUR QUESTIONS WHEN YOU NEED TO KNOW- (not some fake "customer support" person who doesn't actually know a thing about this kind of work.)
There have been literally dozens, perhaps hundred of web sites that have sprung up since I first published this page in 2003. Unfortunately for the budding person interested in learning how, many of these sites are poorly done, some impressive looking ones contain obvious mistakes , others leave out things "till next month" (!) Some "systems" have so much extra junk you will be completely confused. Here- I stick to the ESSENTIALS, and all you need to know to do a FIRST CLASS job and general body repair. I won't waste your time or money trying to show you how to put flames on your car or how to make your doors into gullwings.
You won't have to suffer through the same bad advice I was subject to when I first started. Congratulations! If you find it helpful, then you can get further inexpensive and totally affordable online instant download information and/or the DVD. I help you, you help me survive, and I keep improving this page and materials. Human to human here, :-)
Make sure and read my additional notes at the bottom.
You can end up with a far better finish than your local cheap OR expensive outside service. Why? Because you may care more than the actual guy working on your car for $12.50 an hour. That's a good reason why you should find out how to do this yourself.
Above all, have fun, and enjoy your finished work!
We have now created a very practical and foolproof 80 page illustrated manual (color photo version download), 62 minute online video download, and/or DVD/CD that you may purchase and keep with you out in the garage and watch on your computer and/or DVD player - so please consider picking one of these up. These will be priceless for guiding and helping you. (I keep the price inexpensive, because these days, everyone is eager to save a little money where ever they can.) So, enjoy!
Hi Neil,
My name is Jan and I live in South Africa. I recently (about 6 months ago) had my car re-sprayed by a "professional" after a struck damaged the rear door by backing into it. (It is a Uno Pacer SX '95 Model and the finish was real dull). It cost me R8000.00 (+/- 1150.00 Dollars)I was really disappointed when I collected it from the workshop. The hood still has scratch marks on it because of the rough sanding paper and it seems like their masking was poorly done because of overspray and which looks like fine cracks close to the rubbers. I have also noticed that the paint chips very easily an figured out after my google trip that they must have added excessive hardener to it.
After a lengthy argument with no progress and a lack of interest, I decided that I would learn to re-spray my own car. (Have no insurance). Scrolling through endless web pages, I came across your site, read through it and looked at the two videos. Man what a relief!
I didn't know that there were still people out there that actually cared about delivering an excellent service.
You have inspired me. Thank you.
With a new fire I'm tackling this car of mine! God bless you!
J. Davel
How to Paint A Car, Truck, Motorcycle, Bicycle, or Anything Else!
Made Easy, With Beautiful and Expert Results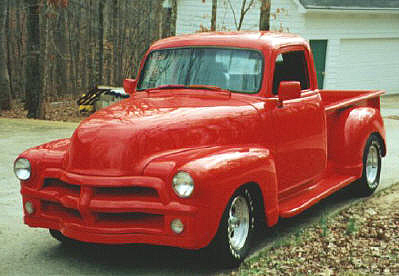 Check out this!! Neil does his LOTUS ELAN
Also of great interest:
THINK and INK Our New Brain Inkjet Ink Tests--
Save 75% $$ just by using your brain
NEIL SLADE TV on YouTube
THE REAL SCOOP ON PAINTING YOUR CAR
The reason I learned how to do this myself is because I owned a rare collector car that would have cost me $3000-$4000 minimum to have done by someone else- and it needed it. AND, I could not afford this.
So, I contacted one of my friends, perhaps the best expert on fiberglass repair and body work anywhere, Mr. Vic Cooper in Denver. He regularly works on the most expensive, the most exotic passenger and race cars, from Lotuses to Lambos to hot rods. He taught me how to do this over a long period of time. Since I am a writer and film maker (and he and other experts I knew are not), I translated everything I learned from him into a form that people could easily learn from right off the web. I further received regular advice from automotive finishing veterans like Jim Lyons, people who are the best anywhere at what they do.
I spent months learning what works, and what doesn't work- and when I was done I had done my first car, my white Lotus that you see on the book cover. It turned out perfectly. And the method I used can be applied to any vehicle, fancy or plain, big or small, boat or car, truck, bike, or motorcycle.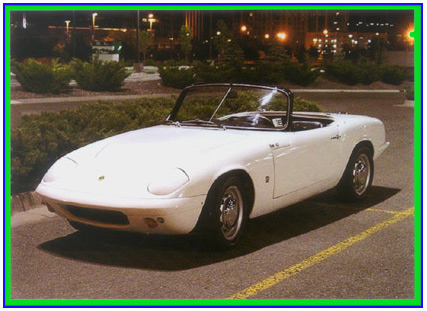 There are tons of BAD books and DVDs that look good on the surface, but in practical use were complicated and had stuff in there that was unnecessary. I wanted to make material available that WORKED as advertised, and was not overly complicated or poorly written. Learning how to do this should be easy- and it IS.
You may find yourself in a similar position looking at your vehicle- but without having done this previously, or have done it making many mistakes and not having things turn out so good. You may not know anyone who knows how to do this, or has the time to show you.
I will show you, because it is my business teaching people- and I've been a teacher for 35 years. You can now enjoy and learn from someone with over 3 decades experience communicating effectively.
You will need a spray gun, a compressor, the paint, some miscellaneous small tools, sandpaper, and a certain amount of patience. You can do it in a car port, garage, booth, or even in your driveway- you decide what is best for you.
You can borrow or rent the gun and compressor and save money that way, and pay about $100 for the basic materials. (You can buy premium materials as well, and optionally spend more). You will also need odds and ends which you may or may not have, light solvents, gloves, an air respirator, and other small items necessary.
Or, you can spend about $250 on the gun and compressor, own it permanently and do lots of things with it for the rest of your life- use it for your walls and house, air clean stuff, run other tools with it, etc.
If you have a special car a collector car, plan on spending a lot of time sanding and re-sanding, and fine sanding, and polishing, and correcting your mistakes, and doing body work.
If you don't have an extra $3000 sitting around, this may be your only choice- AND you can do it, and come up with an absolutely gorgeous job. I will show you how, and my methods come from THE BEST EXPERTS possible.
If you just have an old car and would rather do it yourself than spend $300 or $400 at the budget shops for a mediocre job that they will do, you can do it quickly and end up with a finish as good if not better than such shops, and spend a minimum amount of time doing it- although you will still need the materials and equipment you don't already own, and a place to do it.
You can get the Easy How To download or DVD (it is dirt cheap), or just read through the basics on this page and get a good idea of what you will need to do.
Okay....you decide. No bull here. The best adventure to you!
---- Original Message -----
From: Myron Wilson
To: Neil Slade's Amazing Brain Adventure
Sent: Monday, November 13, 2006 3:09 PM


Hi,
Just got the video, thought it was great. I took an outside class and you covered 8 weeks of school in 1 hour and added some things to boot. Take care, - Myron
----- Original Message -----
From: George Weston
I saw another very fancy web page, and the guy was spraying indoors WITHOUT A MASK!! In many demonstrations---!! I sure won't be buying their information- yow!! Man, if they haven't even got THAT right.... eeek!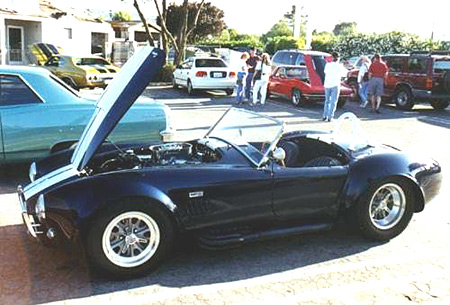 ----- Original Message -----
From: Ben Cheatham <white240sx@xoxoxo.net>
To: neil@neilslade.com
Subject: Want to say thanks
I ordered your DVD and manual quite some time ago. I'm restoring a '72 240Z and planned on doing it myself. Well a friend of mine was replacing all of the fairings on his motorcycle and needed his gas tank painted to match. Figured this would be a perfect opportunity for me to learn before tackling my car. I told him I would do it for free so long as he supplied all the materials. After watching your videos and reading your pdf again, I went ahead and dove headfirst into this tank. Let me tell ya, your tutorials really helped a lot. They gave me an awesome basic knowledge that I probably couldn't have gotten anywhere else. I just wanted to tell you thanks for helping me out, it's really appreciated. Here is the gastank (and cowl that I haven't finished yet) so you can see how it turned out: http://www.members.cox.net/csturbo240/gsxrtank.htm
Thanks again, Ben Cheatham