First:
My un-biased tested and compared recommendation to most people for most applications for any brand printer, with a free shipping coupon code shown here:
This is the ink I USE, and that I've tested to be superior to any of the dozens of available second and third party alternative inks. All inexpensive inks ARE NOT ALIKE- most others give inferior color. This includes off the shelf retail alternative cheap ink sold in places like Office Depot, Staples, etc- which is not good at all.
It is generally 75% less expensive than the cost of regular ink refills, with as good or better color than OEM. It is even less expensive when you but more than one cart at a time, and this is how I purchase ink.
There are cheaper inks than this-- but I don't use them...
Read HERE to find out why, the alternatives, and the difference between inks including image comparisons.
INDEX:
ALL ARTICLES HAVE NOW BEEN UPDATED,
IMPROVED, AND VISUALLY EASIER ON THE EYES Than the original blurbs show below.
USE THE CONVENIENT INDEX ABOVE INSTEAD.
EACH PAGE LINKS TO THE NEXT ARTICLE IN ORDER ALSO.
BUT DON'T FORGET>>>>>>>

When you CLICK ON YOUR FRONTAL LOBES-- YOU HAVE SOMETHING TWICE AS GOOD WORTH PRINTING
Turn on your own INFINITE brain potential for pleasure, creativity, intelligence.
Any further questions you may contact me at neil @ neilslade.com or contact
You are visitor
**********************************************************************************************************************
The following is the original ALL IN ONE page--- please use the directory above for the latest updates- thanks
INTRODUCTION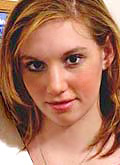 Welcome to this page dedicated to inkjet printers and ink--- the NO BALONEY review and info page. Almost EVERY commercial and even non-commercial printer review and inkjet info shortchanges the consumer- and ignores long term usage problems, and practical application of printers and ink.
THIS PAGE LOOKS AT EVERYTHING beyond the superficial claims and typical shallow reviews- typical reviews that GREATLY MISLEAD users and buyers of inkjet printers and ink.
This has turned out to be the SECOND most popular page on my entire site- which you MUST visit when you are done here- THE AMAZING BRAIN ADVENTURE LAB. If you think this printer page is good- just wait till you explore the Brain pages- Click on Briana to visit Brain Adventure Books for the most amazing adventure of your life.
This page is receiving THOUSANDS of hits a day, and I am constantly revising this page as new information comes in, so bookmark this page, and visit frequently.
New info on the new season of Canon printers is down the page, in which I compare with last year's superlative models.
Neil's MAIN Suggestions SUMMARY:
1) Don't go broke buying overpriced inkjet refills. We have now found suppliers who actually offer ink cartridges at fair prices. Nearly EVERY retailer, and most internet sources we have found charges at least 300% to 600% times the price of these companies. We've tested their inks- they work wonderfully, and a fraction of the cost of the OEM ink you pay through the nose for. These are NOT paid endorsements in any way, just passing on our research in this area, more details below. We've tested several custom formula third party inks against Canon (and some Epson) factory ink cartridges and there is little reason- except for greed- that anyone should be paying $20- $60 to refill their inkjet printers. It is obscene. Details below on this page.
2) For large quantities of printing by professionals and artists, REFILL your cartridges for a fraction of store bought carts. Details below- DON'T use off the shelf refill kits, however. Your ink will cost you1/20th the price of regular refills. There are Continuous Flow Systems available- these come with their own set of problems however, again details below...

3) If you need a printer, I suggest any Canon desktop regular printer at the mid-price range, $100 or more (i.e. models i560, i860, i960, i900D, i9100,i9900) rather than anything else. I don't have any info on the small mini-portable printers, but will tell you this, the ink cartridges are pretty tiny.
REGARDING the new line of Canon printers: Okay, Canon printers BEAT ALL, no question. But the new season of printers, the PIXMA printers are a de-evolution of last years superlative i-series printers- which were PERFECT. Alas, most companies are guilty of planned obsolescence, and often make changes for changes-sake to sell new printers. I recommend the Canon i960 above EVERY printer made-- but they are being phased out, so get one while you can, found for about $135 online these days.
The i960 offers the fastest, most vivid, most highest detailed, sharpest imaging of ANYTHING, including all other Canon models. It is the LOTUS ELAN, the Ferrari, the Acura NSX of inkjet printers.
The new $179 PIXMA IP6000 is 6 color, but only as fast as the i960 at lower resolutions. Higher resolutions, its slower- for the same speed as the i960 at all resolutions, you need the 8500. For many people, the ip600 or ip600d -adds an LCD for computerless printing with select cameras- ($179 at Best Buy) will work very well with minimum expense.
The the i9900 prints as nicely as the 960, but is much more expensive, and requires two additional colors (red and green) that you don't really need. It does allow for bigger prints if you really need that. The i9100 is a better deal, big tray, and 6 color, though microscopically not as absolutely fine as the 960- naked eye, might not be able to tell the difference. A very very very minor difference in printing between the 9100 and the 960 This printer is/has been phased out. Figures!
The IP8500 again is much more expensive than the older i960, requires the two additional inks, and is for all purposes the same speed as the 960.
All of the other PIXMA printers are only 4 color with an additional black, equivalent to the i560 models. These are good printers and suitable for most consumers, but not as good as the 6 or 8 color printers for really semi-pro or pro use.
AND 8 color printers (9900 and 8500) will require two more color cartridges for not a big difference in results. More money, less bang for the buck.
SO- get one of the i-series while you still can-- ink will be available for years and years to come, and you'll get more for your printer money, absolutely. When the time comes and you can't get an i series printer-- the new PIXMA printers are still going to give you better results and reliability than ANY other companies machines.
I do NOT work for Canon.
Avoid any printer under $100 unless you are a broke student or just need something cheap for very occasional use, or you really are not picky about the quality you get..
4) You can refill your laser printers with toner yourself, recycling the cartridge, for 1/5th the cost of just replacing the whole cartridge. This is fairly easy in most cases. Details at the bottom of this page.
5) A Continuous Flow System (end of replacing ink cartridges, and superior ink 1/20th the cost of OEM) is now available for Canon printers using the BCI-6 carts (i960, s900, s9100, s800, etc- see below for details.) I'm using it now. It appeared to work very well initially, but is beginning to fail after about 6 weeks. It can be fixed, but I hesitate to recommend at this time until further bugs are worked out. Details below.
6) DO NOT expect your paper inkjet prints to look EXACTLY like the preview on your monitor. Both flat LCD monitors and regular more common tube CRT monitors PROJECT light to your eyes. Paper inkjet prints REFLECT light to your eyes-- color transmission is very different between a monitor and a paper print. Even with the best calibration- and most people don't even approach this- a print and you monitor will differ significantly in worst cases, and somewhat in best cases. Adjust your printer color settings from what you see on actual prints. You can calibrate your monitor to get close, but chances are, for the best color rendition, look at the print and adjust accordingly.
* * *
Why is this a BRAIN review? Because often reviews are written (even by third parties) which are done poorly, and with motives that may reflect conflict of interests. This is an honest evaluation done by yours truly, seeking the best quality and results for reasonable cost.
AND I USE ALL OF THIS STUFF- extensively all of the time, printing hundreds of photos every month and THOUSANDS of documents and photos every year.
OFTEN, magazine and web reviews are inaccurate- why? The people writing the reviews are COLUMNISTS, and rarely use this stuff at a full time level. They make their conclusions based on short term use, limited use, and frequently don't have the eye of a pro. They may have a slanted bias for or against a printer for unexplained reasons. THEY ACCEPT PAID ADVERTISING, duh- what do you think this does to accurate opinions, eh? I've seen all kinds of BAD reviews regarding printers, as well as cameras. Take any review in a commercial site or magazine with a grain of salt. I use my printers ALL the time, and have for years.
I recently looked at the CNET reviews of inkjet printers-- TOTAL CRAP. This is really bad information to be giving people per their ratings, and I genuinely feel sorry for anyone buying a printer based on these kinds of reviews. Irrelevant and inconsistent, and things CNET editors judged relevant----OOOOO@! it actually makes me disgusted. The editors at CNET are morons to publish these ratings- but then, they accept commercial advertising. BEWARE!! of reviews on commercial sites!
The main players in the regular inkjet and inkjet photo printer consumer market are Epson, HP, Canon, and Lexmark. What I looked at was detail, correct color, speed, price, reputation, reliability and ease of use. I spoke with representatives from the companies, dealers, and used the equipment. I did this on my own then compared some reliable expert reviews, and found that my results were in keeping with other reviews
Any of today's inkjet printers do a good job for general non-too-picky use, and if you only use your printer occasionally, most printers will suffice.
But, if you've got a real eye for quality and reliability-- WATCH OUT. For the same money you will spend on a greatly lesser printer, you can get a printer way ahead of the crowd.
GENERAL NEW INFORMATION
Given all things equal, SIX color (5 colors plus black) printers are superior for lifelike and accurate color over the FOUR color (three colors plus black) printers. This difference may not be noticeable or important however to many people. For snapshots where color imagery accuracy is not that important, it is a small difference. You will pay more for six color systems than four color systems, as well as for the ink. Look at the sample photos at the store- if you can't tell the difference, and absolute color accuracy is not important to you- factor this into your printer purchase/use decision. If you've got a decent eye, and you do care and want the best- go 6 color.
There are now 7 and 8 color printers out there-- in my opinion, forget it. This is pure overkill. 6 color printers will now deliver the same quality as a regular color photo lab. Add 2 more colors- what... do you drive a Humvee to get to 7-11 and get your groceries also- when a Honda will get 3 times the gas mileage, easier to park, a fraction of the cost? Two more colors add more problems to deal with, that you really don't need. The payoff is minimal, if it exists at all.
As far as ink goes, we have now found outlets on the web that sell printer model specific outstanding quality ink at a truly reasonable cost-- 1/6th the price of OEM ink or manufacturers ink elsewhere. It's ink at the price IT SHOULD BE. See details below. If you are replacing inkjet cartridges more than once every year (ha ha) you should not be wasting money supporting greedy printing companies by shelling out $50 for an ounce of ink. !!! How Canon, and Epson, and all the rest rationalize charging outrageous prices for pennies worth of ink is a story in corporate greed in itself. Okay, they make good printers-- charge fair prices for ink already.
INK AND PRINT LIFE
Okay, this discussion comes up immediately when dealing with THIRD PARTY INK SUPPLIERS. Don't make the assumption that anything other than name brand ink will last a fraction of the life span predicted by $12 -$50 name brand ink cartridge makers.
There are ENORMOUS variables in what constitutes print life. Conditions, ink itself, brand, paper, and how all of these interact. There is NO ONE ANSWER, and it is a bad assumption to make that if you use the printer's ink and paper, you will get the best results. Of course, that is what Canon, Epson, and HP would want you to believe. God bless them, they've made great at-home photo printing possible- but that's no excuse to gouge us for ink.
I've been using cheap Epson Glossy Photo paper ($20 for 120 8.5 X 11" sheets at COSTCO) for years. I use third party CUSTOM FORMULA INK (not the generic off the shelf one-ink-fits-all from Office Depot), which costs about 1/6 - 1/20 the price of name brand ink depending on the packaging (4 oz bulk bottles cheaper, obviously). I keep my prints hung on the wall with scotch tape in a brightly sunlit room. I have yet to see and print fading or discoloration in 2 years of any of my s900 or i960 prints. Maybe in ten years. The Canon FORMULA is expected to last 25-27 years before ink degeneration- I would say this is very optimistic.
If you need DETAILED information on print life, then you need to do serious homework. Don't take mainstream media propaganda (PC magazine for example) as God's word. Think about WHO buys advertising in their magazine....Their own article on this subject was VERY limited in it's sensationalist testing. Start here instead: http://www.wilhelm-research.com/index.html
then read this: The MYTH of non-permanence of inkjet prints: http://www.wilhelm-research.com/pdf/Digital_Photo_Pro_May_2004/Digital_Photo_Pro_May_2004.pd
If you are printing PROFESSIONALLY and selling your prints-- DO YOUR HOMEWORK. In summary, Epson's with archival pigmented ink is the way to go to guarantee the longest life. Canon printers won't take pigmented inks (with one exception).
For the typical self-home user, however, Epson's have distinct DISADVANTAGES over Canon printers. See below.
If you are a home consumer use- use regular dyebase inks. They'll look better, printer cheaper, and last plenty long enough provided you don't put your prints in direct sunlight- even REAL color lab photos won't last in the sun- duh.
There are four companies whom I have bought ink for my Canon printer at fair prices, and I've had excellent results with each. Each company offers some unique advantage for your situation, so look at them all, and see my detailed notes about INK below.
I've spoken with the actual manufacturer who supplies these distributors with their inks- very honest, well informed people. I have no doubts- none- about the integrity of their products and their equivalent quality to name brand inks.
PIGMENT ARCHIVAL INKS: All consumer inkjet printers start off using DYE based inks. Archival PIGMENT inks are made, and offer better life-- at higher price. I personally don't use them.
However, be aware, that feedback I've received from people using archival inks, is that in general they do not yet quite equal regular dye based inks in brilliance and accuracy- so that's the trade off. Do lots of homework if pigment inks interest you.
INK TEST UPDATE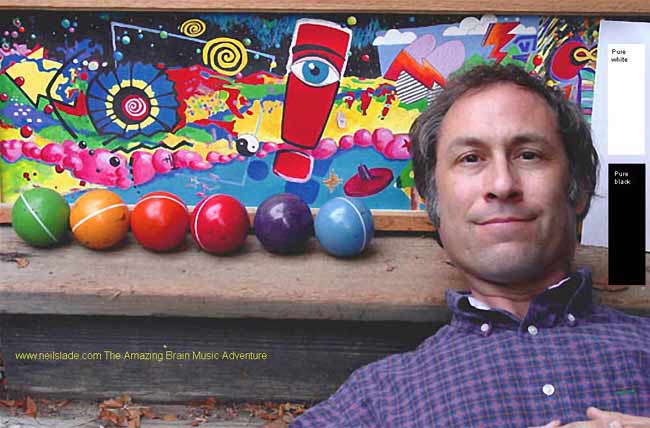 I've gotten a few (actually very few) emails regarding the safety and color accuracy of using the cheap $2 per color inkjet cartridges mentioned on this page. Out of the thousands of page visitors, and many who have successfully used this ink, I've received only two emails from people unhappy with this ink. I suspect it was actually something other than the ink that they were having problems with-- either that, or their complaints were simple fictional set-ups from unhappy competitors who charge far more for ink cart replacements-- don't scoff, this happens.
I have absolutely no business or personal relationship with Inkgrabber, MSI, Colorbat, or Computer Friends companies. I have bought (not been given) all of their products with the exception of the Colorbat CFS for which I was a tester. My interest in this review and use of their product is strictly to promote quality alternatives to what I consider vastly overpriced ink prices for inkjet printers. I have used, and continue to use all of the products I have reviewed here. I have had no problems with quality or lightfastness or printer clogging from the use of ANY of these products, including MIS, Computer Friends, or Colorbat. Close friends who use the same inks for their businesses as well, have not reported any problems either.
Recently, I retested the color quality from Inkgrabber.com cartridges by re-photographing my test print and comparing the original objects, the digital image as seen on my calibrated Sony SDM-X72 17" digital input LCD monitor (very high quality) with the prints using the various inks. I printed out the 8X10 with all Canon i960 settings on neutral using standard Epson Glossy Photo paper. I am not posting any of these files or scans on this page, because they don't come close enough to accurately reflect what I am seeing in person with my eyes.
Overall Inkgrabber impression: The result was an accurate print, with pleasant color balance and a very reasonably accurate reflection of the digital file and the original objects in person, in all of the shades.
Overall MIS ink impression: Again, really great accurate results. Twice as expensive as Inkgrabber when you buy cartridges, but then half as expensive as Inkgrabber carts when you buy 4oz to refill your cartridges - this is the least expensive ink solution that gives absolutely flawless results. See details on refilling carts down this page.
Overall Canon impression: Hey, this is really EXPENSIVE ink. It looks great. Better than any of the others? Nope.
Put unidentified prints on a table and compare-- none of the ink prints look better than any of the others.
There are VERY subtle differences in ink brand coloration-- when I say subtle, I mean MICROSCOPICALLY subtle. The biggest difference I found in the magenta color from one batch of Colorbat ink, which was a real anomaly in being just a hair too intense for my liking. Otherwise, all other Colorbat ink colors were perfect, and all other ink colors are interchangeable with one another.
The Inkgrabber Magenta was best for accuracy in reds, hands down, even better than Canon. Note, this is on Epson Glossy Photo paper, and other papers may give slightly different results.
But my experience over the past two years is simply this- any differences in ink brands can easily be adjusted through your photo software as well as your printer settings, and you can get excellent results with any of the inks in this manner. !!
The biggest question I think most people face is that of COST. Is the Canon color carts worth SIX TIMES the cost of Inkgrabber carts, or TWENTY TIMES the cost of MSI bulk refill ink? GOOD GRIEF, NO, especially considering I see better color from the third party companies in many instances!
************
Regarding the Inkgrabber carts, these are manufactured in China (says so on the box). You can thank Richard Nixon for opening communication with the Chinese. I initially found out about this brand from a friend, and a year ago we tested prints made from this ink, and directly compared it with prints made on the same printer with the same settings. We doubted that we could detect any differences whatsoever at that time. The only thing we could possibly pick up is that the skin color tones from the Inkgrabber ink looked slightly closer and more pleasant to actual skin tone, this year my impression is reversed- is that Canon and MSI give a more olive complexion (mine) and the Inkgrabber tends towards pinker complexion. Other than that, all object colors were good if not better with both MSI and Inkgrabber over Canon.
Think of it like you do comparing Fuji film and Kodak film- slightly different personality, sometimes extremely subtle, other times more noticeable.
INSTEAD, for those who possibly could detect the difference (and most of you may not) this can be adjusted extremely easily to one's preference in printer color settings or in your photo software. You are going to be making adjustments anyway when printing your best work- so this is really not a big deal at all. In the Canon printers add or subtract a little tiny bit of INTENSITY in the printer color preferences to adjust ink levels. Simple, easy, save $10 or more a color.
I've used MIS ink in bulk for well over a year, and I've always been totally satisfied and haven't had to make any adjustments to my printer settings whatsoever from Canon carts. Colorbat representatives inform me that they use the same manufacturer as MIS. My limited experience with the Colorbat bulk ink seems to bear this out with the exception of their Magenta, which seemed too dark. More re-tests with this ink coming soon, but so far, no complaints. And in bulk, this is again half the price of filled Inkgrabber cartridges.
For those of you to want to microscopically match Canon ink color (why why?)-- well then-- you'll have to shell out $12 a cartridge (times 6 for a complete color set) to do this. Considering the fact that if you are THAT sensitive to color, you are going to be tweaking in Photoshop ANYWAY, so the idea of trying to duplicate Canon carts when you're adjusting color in software to begin with seems like a moot point.
If you don't believe me, run your own tests. Spend $70+ for a set of Canon carts. Then get a set of Inkgrabber carts for $15, or refill a set of carts with MIS or Colorbat bulk ink. Make sure and flush the ink when you change carts by running a big purge test print (from this page) or just run one light cleaning cycle. You should easily be able to tweak the Inkgrabber test to more than satisfactory levels, you might not be tweaking the other inks at all.
REMEMBER, the print must dry for about 10 minutes before the color settles for accurate comparison.
If you're not happy, okay, get out your wallet. Often.
In the year this page has been up- I've only heard from two people who were not happy with the inkgrabber ink. (Never from any MIS customers.) I suspect their may have been some other problems involved that went far beyond the ink they were using. I, nor others I know using this ink, have experienced any clogging of the printer head or any other technical problem.
Since none of my prints have faded yet in the past year- I can't say anything about permanence except- reprint in a few years if something fades. Don't put any prints in the sunlight (this is true of color lab photos as well folks.)
There are undoubtedly other companies that offer third party ink (why isn't it called SECOND party anyway?...) which is of equal and good consistancy to the companies I mention here. But since I haven't tried them, I won't recommend them offhand- that wouldn't be responsible. I'll leave that to you to test others if you are so inclined. If you find another good company- and you are NOT an employee of that company- let us know in the INK JET STUFF Group please.
*************************************************************************************************************************
NEVER EVER BUY A STORE DEMO PRINTER, even if they give it to you for pennies. Why? because the chances of it NOT having clogged printer nozzles is extremely remote. Demo printers sit on the shelf for weeks and months, unused. Ink clogs the ink jets, and you will never get them to work right. Don't even THINK about doing it.
I also do not recommend the typical on-the-shelf cartridge ink re-fill kits, or re-manufactured cartridges. This is not because I have anything against recycling, but inkjet ink delivery systems is not as simple as you would think, and these two ideas DO NOT work WAYYYYY more often than they DO work. There are actual cart re-fill systems that DO WORK WELL, however. Remanufactured TONER carts are another matter, since toner is solid color, and I've used many remanufactured toner carts without problem. I would suspect you may find some good remanufactured ink jet carts out there-- but that's your gamble.
SEE MORE ON INK BELOW on this page

KEEP YOUR PRINT HEADS CLEAN!
What am I talking about? Every inkjet printer uses these microscopic ink jet openings to lay ink down on the paper. The same ink that dries nicely on your paper will also dry nicely in the orifice that the ink flows through to get the paper. When this happens, it's like a clogged toilet. Sometimes you can "clean" the print heads with some printer maintenance program-- but OFTEN it is next to impossible. Many many times I had this problem with my otherwise excellent Canon printer. I had plenty of ink in the cartridges, but it would not flow through the print head completely.
The problem happens most often because you JUST DON'T USE YOUR PRINTER EVERYDAY.
PRINT AT LEAST ONE BIG COLOR PRINT A DAY TO KEEP THE HEAD CLEAN. If you can't do that, simply run a cleaning cycle or two (or worst cast scenario three) when you get back from vacation. Save the "Heavy Duty" cleaning cycles for real problems as this uses a ton of ink. You can also run a test "purge" print that prints simply a big block of each color.
[The one advantage (and that's about it) of HP printers is that their ink cartridges contain a brand new head and nozzles every time you replace the cartridge. However, I don't think this justifies buying an HP printer. Just less chance of a clogged head in the long run of you use an HP.]
Trust me, prevention is worth a TON of cure when it comes to ink jet printers. Not only will "cleaning" or "heavy cleaning" take time, but it is expensive, because cleaning generally uses a LOT of ink in printers. Canon will clean the head with air in the regular cleaning setting, but often this does not work and you have to resort to heavy cleaning-- and ZIP!!! half the ink in your cartridge has been used up to get your printer to work right. $36 worth of ink down the drain, literally.
The cure is simple--- print one full color print every single day, whether you need it or not. This will keep your print heads flowing and clean. You can download and use either of the following JPG files to do your "cleaning" or "test" print. Printing these images, especially the Standard Blocks should get the ink flowing. Set your printer to fill the image to page size of Neil's Test Print , or print at half a page size of the Standard Test Block.
Please note: even standard cleaning or heavy cleaning may not keep your printer working the best it can. If you own a Canon printer, please read all of the Canon maintenance information below.
Note, you can also check your printer accuracy by comparing the look of Neil's Test Print on your monitor, and comparing with the actual print out of your printer. Please note, although the text on the print is very sharp, the photo itself is not REALLY sharp although it has excellent color value representation- note the croquet balls in front. the Standard Blocks give you INK color, and should not be used to judge primary color representation, unlike the Neil's Print, and are simply used to make ink flow through your printers ink jet head.
Neil's Test Print Standard Test Block for FOUR COLOR Printers Standard Test Block for SIX COLOR printer

MAKE SURE AND CHECK OUT OUR AIR-CLEANING PROGRAM BELOW on this page WITH COMPRESSED AIR FOR CLEANING CLOGGED PRINT HEADS-- air is almost free, and is a sure fire cure for clogged nozzles.

6 COLOR VERSUS 4 and 5 COLOR PRINTERS AND NOW 7 and 8 Colors!
Yes, having six colors ink systems in a printer produces better images than four and five color systems, no doubt about it. You can produce color photographic prints that are INDISTINGUISHABLE from standard chemical processed color photographs on your $150-$200 ink jet printer on your desk at home now. The four and five color printers are indeed a little cheaper, and you will make very nice prints, including photos. But if you want prints that are perfect, spend the extra dollars and get a six color system. No baloney here. PS, the five color printers add a "photo black" which helps the printer print grays in photos without using up the regular primary colors to blend a gray.
For your information, a six color printer adds two lighter shades of magenta and cyan (printer red and printer blue) which are used in intermediate areas of color. This provides more accuracy and finer control of color and smoother rendering of images. As it turns out, in a six color printer, these are the two colors you end up using most. So unless you have a system where you are refilling your ink cartridges or using a Continuous Flow System below, seriously consider a printer with INDEPENDENT COLOR INK CARTRIDGES, as in CANON.

REGARDING TEXT: If you are printing a lot (we are talking thousands of pages) of text only, black and white documents-- for god's sake, get a Brother laser printer for that and save your inkjet printer for color prints. Anyone judging/using an ink jet printer primarily for printing large amounts of black and white text documents is out of their mind. Laser jets print this kind of thing five times faster, 100 times cheaper, and with equivalent or better quality. Don't buy an inkjet printer based on how quickly it cranks out text documents. This is another shortsighted error I've seen in commercial reviews of ink jet printers-- you don't expect a sedan to do the job of a pickup truck either.
HOWEVER- if you are printing a small or moderate number of text only documents, almost every single inkjet printer over $70 (and a few even cheaper) out there will do an adequate if not excellent job for you, Canon, Epson, HP, Lexmark included.

As for 7 and 8 color printers--- OH COME ON, ALREADY. Will printer manufacturers stop at NOTHING to sell new printers?!? I'm getting kick ass color lab perfect prints on my 6 color Canon i960. Anything over 6 colors is pure overkill. Remember, every book and magazine picture on the planet is only FOUR COLORS. Enough is enough.
Some professionals might enjoy the advantage of 8 color printing- but it comes at a steep price- more colors means more ink to buy, more nozzles to clog which means more printer cleaning, which means more wasting ink- you can't just clean ONE COLOR - you have to waste ink cleaning all the colors.
Further, one 8 color printer, the Epson R800, the cartridges cost $14 each retail-- times eight colors-- and if the printer goes ONE DAY without printing, it WILL clog. See http://www.neilslade.com/Ink/printtest.html
GENERAL CANON VERSUS EPSON and all other brands INFO:
Again: If you are a professional and SELLING prints- you are introducing all kinds of problems to the equation. Print life is of EXTREME IMPORTANCE. Dye based prints MAY be problematic. Inkjet dye based prints will fade under the right conditions. And HOW DO YOU KNOW where your customers will put prints you SOLD for MONEY to them? You don't. So you need absolutely the best life. In these cases- real color lab photo prints may look pretty good. DO YOUR HOMEWORK.
FOR MOST HOME CONSUMERS printing their own photos, hobbyists who enjoy their own prints- its a different story.
Okay, for a lot of people, any current inkjet printer works fine. However, if you are a discriminating user, a hobbyist, semi-pro, or pro, you'll want to look closer.
For moderate use, the Canon printers win over all the others, without question. I have owned both the Canon S900 printer and recently purchased the 2 Epson P900s. I have spoken to store managers who sell all brands of printers. I have spoken with Epson owners. I have compared prints from ALL printers.
The Canons beat all in reliability, color accuracy, and speed. Hands down.
Most everyone who REALLY knows how all these printers compare agree. And this does not include the vast number of amateur printer reviewers on the web and magazines who pose as professional reviewers.
I had hope for the comparably priced Epson, but alas, after a month of use I am not very enthusiastic after comparing the two side by side. My apologies to Epson users. The Epson offered the addition of adding a continuous ink flow system, which meant never again replacing a cartridge, and instead using ink from bottles affixed to the side of the printer. After struggling for a couple of hours to get this system to work- it worked fine. But after a month, the printer started producing inferior and noticeably blurry prints. And it wasn't the ink-- I put the factory ink cartridge back in, and the prints remained less sharp than they were when the printer was new. Cleaning the heads and aligning the heads helped nothing. My guess is that the Epson inkjet heads are prone to some sort of wear or clogging, of which the Canon is impervious. This is well established. I first noticed this with a previous Epson printer that I exchanged, thinking this was a problem printer. Alas, my brand new one turned out perfectly sharp prints at the beginning-- and now after 30 days, the blur is showing up on this one as well. It's been returned for a refund.
Recently my local Comp USA posted comparative pictures from the newest Epson, Canon, and HP printers.
Epson prints SUCKED next to the other two brands. They were dull and lifeless.
The HP prints looked good, but were darker than the others.
The Canon prints were VIVID and VIBRANT.
Now, add to the fact that Canon printers are extremely reliable over the long run, print twice as fast as any other printer, and maintain printed image quality irregardless of how long you use the printer and how many prints you print- what conclusion do you make?
The Canon NEVER produced blurry prints, after THOUSANDS of prints. My main objection to using the Canon for a very large output was that refilling the carts with syringes was getting to be annoying. The ink at inkgrabber.com made this a moot point- its easy to throw in another cart at $2.50, rather than the $12 retail. If the decision between the Canon and Epson is based on the availability of a continuous flow system, Canon STILL WINS, because the prints are that much better. I've gotten used to refilling with syringes because of my high volume of ink use..
We also compared the Epson prints with the Canon prints in terms of accurate photographic color-- the Canon i960 and the older S900 seemed to edge out the Epson P900 in accuracy of the original object, although the Epson matched the monitor view a bit better-- but this is not to be preferred, as what you want is realistic color prints-- not necessarily what an LCD monitor shows as electronic color. IN generally, for graphics, the Canon prints were VIVID, where as the Epson graphic prints were "pedestrian". This holds true for the latest generation of Epson and Canon printers.
Further, the Canon software that comes with the printer is SIGNIFICANTLY better than the Epson software on several accounts. Canon gives you photo stitching software than is incredibly good, allowing you to create a single PANORAMIC photos from several individual regular photos, providing you take two of more photos with your camera pivoting as you go. No panorama setting is necessary on your camera. I was AMAZED when I first used this program and saw how intelligently and well it worked- it is a really cool Canon offering. Canon also gives you an "Easy Photo" program that makes printing amazingly easy, and allows you to print a number of different prints on the same sheet of paper. The Epson program that comes with their printers to accomplish this is quite inferior. Why the difference between Canon and Epson photo printers at the mid-price range? Well, Canon is a HUGE company that has specialized in photo supplies and hardware for decades, and they are industry leaders in this regard. Epson is a smaller company that really began as an office supply hardware outfit, and they just don't have the resources of Canon, and apparently the expertise either.
Canon wins, it's really no contest after all. Apparently many magazines are in total agreement with me in their printer reviews, including Mac World.
*****SEPTEMBER CANON CFS UPDATE: IMPORTANT********
First let me say that the people at Colorbat are REALLY determined to work out ALL the bugs in the Canon CFS system- and modifications are already being made from a lot of information we have about CFS systems that do work long term. I will keep you up to date as the long term problems that have recently surfaced are solved.
The Canon CFS system made by Colorbat worked perfectly initially. After about 6 weeks however, the system was prone to get air into the carts apparently from the bottom ink outlet hole on the bottom of the carts OR simple long term failure of the material inside the cart-- WHICH WE ALREADY KNOW has a limited lifespan when refilling carts with a syringe. You can only refill a cart a limited number of times before it eventually fails, and you have to replace the cart and then start refilling
This is not a failure of the Colorbat system itself, but inherent in the design of the Canon carts- which use a flexible porous sponge inside and on the the bottom of the Canon cart design to seal the outlet ink holes from the carts. When you simply use a new cart, this seal is replaced with each cart. If you leave the same cart in place over a long period of time, the seal compression is reduced apparently, or the trasfer of ink through the sponge is reduced, and then ink delivery is compromised. It may also be a fault of the sponge material in the main chamber of the Canon carts, that is prone to stop working after a certain number of refills.
Photo Cyan is always the first to go-- as it is the most used color. The engineers at Colorbat IMMEDIATELY went to work on this problem, as it wasn't known until my own extreme volume of printing using their system.
So, at present- hold off on the CFS for Canon until I've given it a longer term test period with the new modifications.
>>>Keep in mind, this is only for the CFS system-- I still recommend Canon printers above all others, and for moderate to large volume printing, the syringe refill method has proved to be effective, relatively easy, and completely reliable after years of use. If you don't want to refill, the inkgrabber.com replacement cartridges, and other low cost carts by the companies listed on this page for Canon BCI-6 carts (and others) have proven extremely reliable, perfect quality, and although more expensive than re-using carts and refilling, are a bargain versus $12 a color for the "official" Canon carts.<<<
>>>>>>>
---
LIFE OF INKJET PRINTS

I've been doing photography and developing and printing my own photos for almost 35 years, and I am VERY excited that I can take, edit, and print better photographs easier and less expensively, without messing with pouring film chemicals by the gallon down the drain and breathing in all that stuff. I can do so much more efficiently, and at less environmental cost by digital manipulation and image improvement on the computer first, and printing much fewer trial pictures. I am no longer at the mercy of the photo lab, and have 1000% more control over my photographs. Hurray!!
See the related (unfortunately needs a recent update-- soon!) page on Brain Photo Fun
HOWEVER, despite current claims of inkjet printer manufacturers claiming that you can crank out inkjet photos that will outlast regular film process photos- this needs to be taken with a couple of brain-grains of salt. An inkjet print or inkjet photo simply tacked onto your wall unprotected or taped to your refrigerator might not even make it to your next birthday much less 25 years as commercially promised.
If you are printing inkjet photos or prints with PERMANENCE in mind, the combination of printer and PAPER is very important. Certain papers have a much better record at keeping stable colors. Plain cheap Epson Glossy Photo Paper (not the premium stuff, we are talking about the $20 for 100 sheets at COSTCO) or more expensive Ilford Heavy Weight Glossy Paper (goes by different names) is at the present time, the best among a few other excellent choices. These days, most new inkjet photo printer inks are reasonably long lasting- advertised for 25 years or more if protected and printed on decent paper. Well, probably not THAT long, but long enough for most of us. I've now heard of a Costco selling their own brand of photo paper, heavier than the Epson Glossy Photo paper- and for most uses, it's probably going to work just fine. There is no testing of the lighfastness of this paper however.
See the section on papers below and the web link for complete information. Another definite help with any paper is to place wall hanging inkjet prints in a sealed frame (like any other photo) under glass where air circulation or strong sunlight won't get at it. Use of a photo album keeping the prints out of continual air and light will keep your prints looking good for an exceptionally long time.
The only real cure for true "archival" prints (needed for art prints or permanent exhibit) is to use a pigment ink system, only available on printers like the Epson 2200, which run about $700. Practically speaking however, if a print will last several years or more, that should be convenient enough-- if a new print is needed-- just print one up off the computer hard drive or CD-R. This year's newer printers that use the newer photo inks should produce prints that should last long enough for most of us. Put your print behind glass, in a photo book, or out of direct light- it'll probably be around a long time before you need to reprint, if ever.
---
PRINTER BRAND COMPARISON
CANON
Also See Canon Versus The Universe
The Canon printers are great. Period. THEY ARE UNBEATABLE. They are lightning fast. For most everyone, including full fledge professional photographers who print small, moderate, or even large numbers of prints, they are the printer of choice. I have printed THOUSANDS of 8X10 photos on my S900 and my i960. Now that I have figured out the few points of smooth running, I have no qualms. I just gave my s900 to a friend and replaced it (though this was not necessary) with a brand new i960. (Essentially the same printer, although the new one has larger paper capacity and a front USB port for direct printing from a digital camera.
I now own the i960, and it prints better and slightly faster photos than any previous model. This is the FERRARI of currently available inkjet printers, and the price of a Honda. If you want the best printer for color graphics and photos, THIS IS IT. For those interested, it actually prints better than the earlier i9100 (a larger format printer). See http://www.steves-digicams.com/2003_reviews/canon_i960_pg4.html Steve is a professional photographer who reviews EVERYTHING photo. He knows of what he speaks (as do I :-)
For one thing- in many of the better Canon printers, each ink color has its own individual replaceable tank. So, if you run out of one color more than others-- and you'll find that in SIX COLOR SYSTEMS the "photo cyan and photo magenta" go much faster than others- you don't have to throw out the WHOLE CARTRIDGE and you replace just the one empty cart. This is not applicable if you are refilling your carts, but if you are like most people and simply replace an empty ink cartridge-- this makes a HUGE DIFFERENCE in your ink cost.
A couple of seasons ago one professional reviewer (Steve) can be quoted comparing the Canon S900 and S9000 (same exact printer with a bigger paper carriage) with other inkjet printers (and I only read this after my own discoveries): "Up until about two months ago I was a die-hard Epson user. For the last four years there has always been a Stylus Photo printer (usually the latest model) sitting on my desk. After reviewing the Canon S9000 I was no longer satisfied with the printing speed of my Epsons or any other inkjet for that matter." He goes on to say that he in fact has passed on purchasing the admittedly incredible $700 Epson 2200 because he already owns the Canon- and the quality of the two printers are indistinguishable- only the Canon works faster and is half as much money.
I had the software installed and the Canon printers up and running in minutes, unlike the HP units. They are a breeze to use and control, and offer the excellent flexibility in terms of settings, and REMEMBERING custom settings. Set up a paper/image combination and recall it in one click.
The prints from six color Canon printers was AMAZING. What else can I say. The $200 (retail) printers turn out prints that are indistinguishable from chemical high quality lab photos except perhaps under an electron microscope. The four color Canon printers are excellent, but not quite as good. Most people would not be able to tell the difference unless they really looked hard. If you don't need photographic reproduction quality, and just need an excellent color inkjet, the less expensive Canons are great. If you want professional results and need that extra edge-- go for the six color printers. The main difference between the i960 and the i869 is speed, the higher priced spread goes faster. The model i9100 is identical to the i960 but allows for larger format prints.
Here's a repeat of the NEW CANON MODELS INFO at the top of the page in case you missed it:
REGARDING the new line of Canon printers: Okay, Canon printers BEAT ALL, no question. But the new season of printers, the PIXMA printers are a de-evolution of last years superlative i-series printers- which were PERFECT. Alas, most companies are guilty of planned obsolescence, and often make changes for changes-sake to sell new printers. I recommend the Canon i960 above EVERY printer made-- but they are being phased out, so get one while you can, found for about $135 online these days. www.Provantage.com is a reliable source.
The i960 offers the fastest, most vivid, most highest detailed, sharpest imaging of ANYTHING, including all other Canon models. It is the LOTUS ELAN, the Ferrari, the Acura NSX of inkjet printers.
The new $179 PIXMA IP6000 is 6 color, but twice as slow a printer, with additional gimmicky features nobody needs. The the i9900 prints as nicely as the 960, but is much more expensive, and requires two additional colors (red and green) that you don't need. It does allow for bigger prints if you really need that. The i9100 is a better deal, big tray, and 6 color, though microscopically not as absolutely fine as the 960- naked eye, might not be able to tell the difference. A very very very minor difference in printing between the 9100 and the 960 This printer is/has been phased out. Figures!
The IP8500 again is much more expensive than the 960, requires the two additional inks, and is for all purposes the same speed as the 960. All of the other PIXMA printers are only 4 color with an additional black, equivalent to the i560 models. These are good printers and suitable for most consumers, but not as good as the 6 or 8 color printers for really semi-pro or pro use.
AND any CHROMO INK 8 color printers (9900 and 8500) will require the more expensive Chroma ink- what a drag! No cheap ink for these printers yet....
SO- get one of the i-series while you still can-- ink will be available for years and years to come, and you'll get more for your printer money, absolutely. When the time comes and you can't get an i series printer-- the new PIXMA printers are still going to give you better results and reliability than ANY other companies machines.
I do NOT work for Canon.
PLEASE READ ALL OF THE CANON MAINTENANCE INFO BELOW if you have a newer Canon printer.
ONE IMPORTANT NOTE: Canon does not tell you to regularly use the "clean" or "deep cleaning" functions of their printers in the instruction manual unless there is a problem. Think PREVENTATIVE MAINTENANCE. After printing THOUSANDS of sheets myself on my Canon printer, I would STRONGLY recommend you do this after large batches of prints to extend indefinitely the life of your printer head. Otherwise it will clog, just like any other printer head.
---
EPSON
Epson printers are okay, if you don't know any better. As of September 2004, the HP printers are turning out better looking prints- although HP ink refills are ridiculously priced. Epson prints look weak and lifeless if you actually compare them right next to identical prints printed on Canons or HPs.
Epson printer heads CLOG. Just ask the guy selling them at Comp USA. I had exactly the same experience with the Epson printer I owned for a while.
The EPSON brand printers have a better reputation for quality printing and reliability now than a few years back.
Last year I tested the relatively inexpensive C80 Epson printer--- just dreadful colors, only good for unimportant work. Avoid the cheapest printers in any brand anyway unless you are a dirt poor student who will only be printing out psychology essays.
Epson printers are are slower than comparable Canon printers at the very highest resolution settings- not really an issue unless you are always printing a lot of microscopically fine prints-- and I am not refereeing to the typical average snapshot photo.
See some details of the new R800 printer here http://www.neilslade.com/Ink/printtest.html
For the same amount of money, get a Canon.




CONTINUOUS FLOW SYSTEMS FOR EPSON
NOTE: I have, despite many trials, never found a CIS system that works for Canon Printers for more than a month or so, if that long. Okay, you've been warned.
UPDATE Sptember 21 2004
Please see the news in BOLD print up the page regarding the Colorbat CFS for Canon.
ORIGINAL EPSON CFS notes:
The biggest advantage of the Epson (and now BCI-6 cartridge Canon) printers is this-- you can outfit them to take "Continuous Flow Systems". A company named MIS Inkjet Supplies as well as www.colorbat.com manufactures a retrofit ink system for many Epson printers. For the P900 this runs about $150, which is not cheap-- unless you are printing thousands of prints every year like me. Then, THEORETICALLY it pays for itself. Theoretically mind you. Another company, Niagra, sells a similar (if not identical) system for $260. Another company $190. They all look the same.
But I had a relatively difficult time getting it to work properly-- and I am NOT all thumbs. It took several hours, most of an entire day to get it to work as promised. Eventually after much cursing it did. All the companies say "easy to install". Maybe with lots of practice the people selling these can get them to work quickly. I could not. The Colorbat vaccum pump system uses a slightly different method to get ink flowing initially, and looks like a better method than the MIS, and may be the better choice of the two.
HOWEVER, then, after spending $150 on this MIS version system, I only find that the Epson P900 heads wear out and produce inferior prints to the Canon. A waste of time and money. The 1280 model printers may produce better prints than the P900- but funny thing, I have not received ONE EMAIL from an Epson owner telling me otherwise, AND news is that the 1280 is being phased out.
Previously I was using a Canon S900 to do all of my commercial color photo printing. This required often refills using a syringe and unplugging the Canon Ink cartridge. If you do this A LOT-- you learn to hate this process. You get ink on your hands, and nothing but nothing but Clorox will remove the color. Not even the strongest solvents or paint remover. You have to bleach the ink off your hands. You can wear gloves, but if you refill the carts frequently, its hard not to make a little bit of a mess once in a while. But mostly, the routine of cleaning the syringes, wiping the counter, cleaning the carts-- if you have to do this three times a day-- bleeeeccch. Once a week or less, okay, I could live with that. But given that we've now found a source of pre-filled Canon compatible ink carts at $2 a shot, its a real toss up whether or not its worth it to refill carts at all. For most people, its not worth refilling- I've learned to accept refilling with the syringe. There is NO WAY I'm going to settle for the inferior quality of Epson prints.

The CFS replaces the printer cartridge with a MIS cartridge with permanently installed ink tubes that run to bottles of ink affixed to the outside of the printer. You never replace the cartridge any more. You will have to replace the ink in the bottles, but they will last for thousands of prints, and refilling the bottles is a total snap compared to using syringes to refill ink cartridges.
Admittedly, it will take you a half hour or more to install the system. The directions of what ink bottle goes to what tube was BACKWARDS in the directions-- be careful (Maybe they've fixed this by now.) On my P900 YELLOW INK goes towards the front of the printer NOT BLACK as in the directions.
It will take a lot of test prints before the ink tubes fill properly with ink from the bottles. It may be messy-- wear gloves and put newspaper down. Again, if you have any clogged ink jet nozzles to start with, you will be a madman trying to get your CFS system to work right. Makes sure your printer is new, or works PERFECTLY first.
I found that I could use the "bottom fill" syringe supplied with the kit to quickly draw ink fully into the tubes by sucking ink from the bottom of the permanent cart after connecting it all up. (If you get this system you'll understand).
ALSO NOTE- To install the permanent cartridge (and by the way, you can also revert back to the replaceable cartridges at any time, but why you would want to is beyond me....) YOU HAVE TO REMOVE THE PIVOTED HOLD-DOWN CLIPS THAT HOLD THE PERMANENT MIS CARTRIDGES IN PLACE. The MIS instructions did not illustrate this, and poorly explained it. Watch this when installing the MIS carts in the beginning.
Ask around, if you know someone using one of the pro Epson printers at $400 or more, compare the results with some of the Canons. At the under $300 range, I'm not convinced Epson is so hot.
My advice- skip the Epson printers entirely, even with the Continuous Flow System, unless you really really REALLY must have pigmented ink. Think about this VERY carefully.
---
LEXMARK The LEXMARK brand printers seem to suffer the similar reputation for lack of reliability as Epson. I (and many others) was least impressed with the test prints, even on the highest priced and highest resolution printer. Skip Lexmark unless you are the gambling type who is not concerned with anything except saving a few bucks. They may have improved things lately, but by gossip I've heard and read, not by much.
---
HEWLETT-PACKARD
Hewlett Packard printers have served me well in the past, even their entry level printers. They are built like tanks. However, this newest round of HP inkjet printers uses cartridges that cost (per volume of ink) nearly THREE TIMES as much as comparable Canon inks. (HP Cartridges #56, 57, 58). Ouch.
The very newest line of HP prints look quite good, and more vivid colors than Epson, although generally darker in tone than either Canon or Epson. Last time I check, HP OEM ink carts were TINY and relatively very expensive.
A new series of HP printers is due out at the end of 2004- and these printers claim to use half the ink, and print faster. We will keep our eyes open when these are available for testing.
If you haven't yet, look at the PRINTER Quiz where you can get a good look at how the recent top of the line HP printer stacks up http://www.neilslade.com/Ink/printtest.html
The main disadvantage to HP printers is the combined color carts, which also include a new printer nozzle head. About $80 to replace all the inks in an HP printer- and these are small cartridges to boot. Not very cost effective at all. And the HP printers - the fastest one- is more than three times slower than the fastest Canon printers.
Sorry, but I just can't get very enthusiastic considering these major drawbacks.
The new HP photo printers using the new "longer lasting prints" (cartridges 56, 57, 58) literally stink when you print. Not a lot, but I noticed a distinctly bad odor coming from the printer and the prints that reminded me of dirty dog poop. This was not true of my older HP printer (model 932C). Unfortunately the older HP printers (and most other brands) turn out prints that fade very quickly left up on the wall in regular indoor room light, unlike regular chemical processed photos. Maybe they've changed this as of summer 2004.
Finally, the HP prints of humans as of early models in 2004- that is to say faces and flesh tones- took on a distinctive WAXY look on 8X10 photos that I did not care for at all , and which I did not notice from the older printers. This was surprising since the newer resolution of 2400 X 1200 dots per inch should crank out very detailed and natural prints. Upon inspection of graphic designs, like the Zow-X poster, fine details were lost in printing, and there was an uncorrectable high contrast in the print. This may have been avoided in the highest print setting at 4800 dots per inch- but this used unacceptable HUGE amounts of ink and took forever to print out.
I don't know if this waxy quality of flesh carries through in the top of the line models, but considering the rest- its a moot point anyway. I cannot recommend HP printers to anyone, except millionaire turtles.
Finally, did you every try to install or re-install an HP printer? Welcome to computer hell.
I am a computer NERD, and it took even me about a half hour to even get the thing running. (New model 5550.) And even this is huge improvement over installing the older models, and I would never wish THAT on my worst enemies.
---
INK
Inkjet printer manufacturers make all of their money selling replacement ink. And they do so at SUBSTANTIAL mark-up to the consumer. I.e., rip-off to people who use fair amounts of ink.
Not only is this bad for the environment- throwing out all those cartridges, but it SUCKS your green energy (money) out of you, which could be more efficiently spent. Efficient use of money translates into personal BRAIN HAPPINESS. You want THAT, don't you?
I've used ink from
www.colorbat.com , www.inkgrabber.com , "Computer Friends", Inkjet Ink and Other Related
and MIS Inkjet Supplies PLEASE FIRST READ MY DETAILS- each company offers a distinct advantage.
As far as ink goes, all of these companies sell outstanding quality ink at a truly reasonable cost-- 1/6th the price of OEM ink or manufacturers ink elsewhere. It's ink at the price IT SHOULD BE. See details below. This is NOT a paid endorsement in any way, just a BRAIN ADVANTAGE of visiting The Brain Adventure Site.
UPDATE Sept. 21, 2004
For simple replacement of cartridges (not refilling or CFS) Our www.inkgrabber.com recommendation is NOT a paid endorsement in any way, just a BRAIN ADVANTAGE of visiting The Brain Adventure Site. See: www.inkgrabber.com
We tested and RECENTLY RE-TESTED this ink against Canon factory ink cartridges found that there was marginal detectable differences in color accuracy when used in an i960 printer- Canon's best inkjet printer, and likely the best quality ink jet made by anybody, September 22, 2004.
For ordinary use, the Inkgrabber ink seems to be very good and more than sufficient. Very slight changes in color density
---
PAPER
Not all inkjet papers are created the same. In fact, contrary to claims, some inkjet papers hardly work at all on some printers.
For example, I put Kodak PREMIUM Photo paper in my Canon S900 printer and was entirely unable to get satisfactory prints from it in regard to accurate color and details, no matter how I adjusted the printer. It was, in a word, HORRIBLE. (I've heard its horrible in both Epson printers as well. I then put the cheapest Epson Photo Paper (about 20 cents for an entire 8 1/2 X 11 sheet, COSTCO, 100 pack costs $19.95) in the same printer with the same settings, and the print came out MAGNIFICENT.
And to make makes more confusing, Kodak ULTIMA Photo Paper has been seen to be one of the BEST quality and fade resistant papers for Epson and presumably similar Canon inks. Go figure.
In general, matte (non-shiny finish) photo papers will keep their color the longest, up to four times longer than glossy paper. Epson Heavyweight Matte Photo paper is outstanding, and regarded by many as the best deal in matte paper. Put a matte print or photo under glass or plastic and it will last forever and look fantastic.
HERE IS THE BEST DEAL ON PHOTO PAPER ON THE PLANET:
Plain old cheap Epson Photo Paper (Glossy) gives absolutely gorgeous excellent results, its good and heavy weight, (some reviewers give it the highest rating among glossy paper), it won't fade like many others, though it's surface is not as perfectly flat smooth as some of the other papers. Hey, who cares, unless you're concentrating on the shiny part and not the image. It also reproduces nice accurate colors. It can be found at COSTCO for $19.95 for 120 sheets. If your local Costco doesn't carry this-- NAG THEM UNTIL THEY DO, cause the stores in Denver Colorado DO!
NEW: Two people have reported EXCELLENT results with COSTCO Kirkland brand paper that surpass even the Epson Glossy Photo paper, at essentially the same cost.
I AM NOW USING KIRKLAND PAPER-- yep its great, and a great bargain. Thicker, glossier, and smoother than Epson Photo Paper.
Here's the report:
Hi Neil, I bought a Canon I960 at your suggestion, set it up today with the enclosed OEM inks, and tested various papers. I thought you would like to know my results. I used a picture of my 15 month old granddaughter who has very fair skin and light brown hair with reddish overtones.
The printer came with samples of the Canon Photo Paper Pro. I used the "photo paper pro" and "automatic" settings and produced an excellent print. I used this print to compare the other papers.
NEIL RESPONDS: Unfortunately, this is a fundamental mistake- which you then pointed out you addressed below.
I also don't use the automatic settings-- this tends to leave more room for errors by the printer. The manual paper and type settings work better-- using manual settings, you'll find that the Epson glossy Photo paper gives you perfectly saturated results as well as accurate colors.
HOWEVER, note that INK makes a big difference as well- especially when you are using paper other than Canon. The MIS and inkgraber inks produce somewhat different results than the Canon inks-- and often better color results than the Canon inks with non- Canon papers. MIS yellow, for exacmple, as well as magenta, produce far more accurate colors on the Epson paper than the Canon ink.
Since the third party inks are such a more affordable alternative to the Canon inks, as well as use of papers other than Canon, I don't generalize as to what is "BEST", this is a very relative term than must take into account, cost, and availability, as well as printer settings.
I will be happy to reprint your results on my page with credit to you if you like-- let me know, and thanks for your research, it is very welcome.
Epson Glossy Photo paper (the Costco special at `120 sheets for $20) produced prints with skin tones that were over-saturated and too contrasty when printed at the same settings as Canon Photo Paper Pro. At a setting of "Photo Paper plus glossy", oversaturation was less. At a setting of "glossy photo paper" and "automatic", the oversaturation was nearly reduced to normal. I then used a manual setting of -5 intensity and got a result nearly the same as the Canon Photo Paper Pro.
Epson Premium Glossy Photo Paper gave slightly less saturated and less contrasty results at comparable settings when compared to the inexpensive Epson Glossy Photo paper. At a setting of Glossy Photo Paper the skin tones were not quite as subtle as with the Canon paper. I did not experiment with manual settings, but I expect that the result would have been similar to the Epson Glossy Photo paper and the Canon Photo Paper Pro.
Kirkland Glossy Photo Paper was the surprise of the day! As I reported to you, the San Francisco Bay Area Costco stores have discontinued carying the Epson paper in favor of their own brand. I had told you that, on my Epson Stylus Color 900, there was a noticeable greenish color shift with this paper as well as with the Epson Premium Glossy Paper. The best skin tones (with subtle shading) with the Kirkland paper (Costco) came with the settings at "Glossy Photo Paper" , "Manual", and intensity set at -5 or -6. It was then quite close to the Canon Photo Paper Pro. It actually had slightly brighter light skin tones leaning to the red instead of toward orange/yellow that I saw with the Canon paper. The weight was similar to the Canon and Epson Premium papers and the surface was much smoother than the less expensive Epson paper. Because of the additional weight there was less initial paper curl than was produced with the cheaper paper as well.
Bottom Line - With the Canon I960 and EOM inks all of the prints had very acceptable skin tones and overall color balance. The whites were clean and bright and it was very hard to discern an appreciable color difference from one paper to the next. The only real issue was the level of saturation compared to the Canon Photo Paper Pro. I will purchase the Kirkland paper, make some final small adjustments as necessary, and enjoy my new printer.
By the way, I never did get a final answer from Bob at MIS regarding the problem with the MIS ink refills for my Epson printer. He very graciously sent me a set of carts and inks for the new printer to compensate for the problems I had in trying to use the MIS inks with the Epson printer. What finally caused the best improvement with the Epson was making and using cleaning cartridges with the cleaning solution suggested by Arthur Entlich. After following his instructions I was able to print excellent pics with OEM inks at 720 DPI without banding. None the less, I decided to treat myself to the I960 and do MIS refills or buy inkgrabber carts. The ability to use cheaper ink and produce borderless prints without needing to trim after printing is well worth the purchase.
I hope that my report on these papers will be helpful to you and the people who read about printers on your web site.
The newest version of Epson PREMIUM Glossy Photo Paper, on the other hand, had the worst reputation, then better after they changed the formula, then Epson recalled it again, now its coming out again-- but still not as good as the cheap stuff. Okey dokey.
Ilford Heavyweight glossy Photo paper is a champ in terms of long lasting color and nice finish, and can be found with some searching on the net (try Calumet Photo or others) for less than 40 cents a sheet in quantity. More money than Epson, but apparently good for really permanent items, and even mounting unframed or unprotected on walls without problems. See the paper review web page below for details.
ONE CUSTOMER REPORTS FINDING ILFORD Gallery Glossy PAPER at Sams Club for $23 for 100 sheets- this is EXCELLENT, Ilford paper is OUTSTANDING.
You can also use plain smooth brilliant white card stock for printing graphics (and okay photos), which is the least expensive option at about 250 sheets for around $10 (Office Depot). It will give you good color and decent detail, but will lack the total vivid reproduction and saturation (especially in large dark areas) that you will see from good matte or glossy stock. No news on how long it goes before fading in any situation. Give it a try and see.
Don't be fooled into thinking the most expensive papers are the best. The Canon Photo Pro costing a zillion dollars a sheet (well, almost-compared to Epson Photo Paper) gives really amazing EXACTLY LOOKING LIKE A PHOTO results- at first- but is prone to fading after time. And, the color is not even as accurate as the cheapo Epson paper.
For an almost complete review of all inkjet papers please see this site- you will be amazed at the difference. Each paper has its own detailed test, plus a long term fade test (click on the little colored test squares at the top of each review. A really excellent report- Paper Reviews
---
And remember, even after all of this--- its your BRAIN that will make you happy. Not stuff.
www.neilslade.com The AMAZING BRAIN ADVENTURE
---
PRINTING on CDS and CD Labels
A few printers brag about printing direct on CDs.
This sounds good, but in actuality is a BAD idea for home inkjet printing setups.
You will NOT get the same results as factory professional direct CD printing, no way.
There are three big drawbacks to at-home direct CD printing--
1) ink dry time is NOT instant as it is with printing on regular peel off labels. You have to set the CDs aside for quite a while, otherwise the ink will smear.
2) CDs with white printable labels are significantly more expensive than plain Cds.
3) Label printing LOOKS BETTER!
4) Printing labels on peel off paper, then applying them is WAY FASTER then attaching the special CD tray onto your printer and printing, and waiting for it to dry.
So, although it sounds nice, direct CD printing on your home inkjet its really a big pain in the butt!
I use ONLY Fellowes brand Matte Photo quality CD lables and the NEATO brand label creation and application software and disc plastic applicator. Very very easy to use-- although I prefer the earliest Neato version 1.1 to the newer versions. SO what else is new, eh? The brilliance and sharpness and intensity on this brand labels is the BEST I've seen, and is far superior to inkjet direct to CD quality.
I now get my labels at Provantage.com http://www.provantage.com/pr_70893.htm (store bought much more expensive) for the cheapest price, about 10 cents per label at the 300 or 500 label quantity. A little more for the smaller quantities. . If you goof, you can always apply a second label over the first- something you can't do with CD printing0 though you can apply a label over a bad CD print.
FROM STEVE'S DIGITAL CAMERA and PRINTER REVIEWS:
"Epson recommends allowing the CD to dry for at least 24 hours to prevent any smearing of the ink. Not all printable discs are the same, I much prefer the white-sided ones to the silver ones, they have better color reproduction. You can only print on those discs that are specifically manufactured as "ink jet printable" discs, regular CD discs cannot be used. Even when fully dried, the ink can be smeared if handled with wet fingers. The R800's pigment ink is more resistant to smearing than the Stylus 960 with its dye inks but it still isn't permanent. When printing on the silver-surface discs the color saturation is only about 50% maximum even with the driver set to darkest printed colors possible."
---
NEW CANON INKJET MAINTENANCE INFO
If your situation calls for refilling cartridges, here is some additional information regarding Canon Ink Refill procedures, as well as a free solution to the "Waste Tank Full" dilemma. This was inspired by one fellow who was having a bit of a problem with refilling his Canon cartridges for his i950 inkjet printer. It applies to many others including the Canon S750, S800, S900. i960 printers and others.
The information below may seem to be a lot- don't be overwhelmed or discouraged by this info. Having tried all available printers, this is a fraction of the trouble other brands will cause you- and the Canon's just plain work the best AND problems CAN be fixed when/if they occur.
One of the GENIUS features of the Canon printers is the CLEAR SEE-THROUGH ink jet cartridges. This allows you to actually see the condition of the internal parts of the cartridge and address them. Other brand printers don't even allow this- and you can't even diagnose a cartridge problem except to replace it- often not necessary.
INK REFILLING
FIRST OPTION: DON'T REFILL AT ALL- go to www.inkgrabber.com and get ink for $2 a color as opposed to spending $12 a color at your local Office Depot. We tested this ink and it actually looked BETTER than the official factory Canon Ink- gave what looked like more accurate flesh tones-- maybe we were hallucinating- maybe not. There ya go! Easy and cheap.
I have found that the PHOTO CYAN and PHOTO MAGENTA colors are used up two to four times faster than any other color. On top of this, if the cartridge goes completely empty before refilling-- nine times out of 10 you are screwed and you will never be able to get that cartridge to work properly again. Why? Air inside the sponge ink filler inside the cart will block the flow of ink, and there is NOTHING you can do to remedy this once it happens except replace the cartridge.
I have noted that after thousands of Canon prints and many many refills, the print head will invariably clog up requiring cleaning maintenance using the Canon program to do this. AND, on certain occasions (we are talking MANYYYYYYYYYY prints), programmed cleaning will still not unclog the heads. The o
The MIRACLE AIR CLEANING CURE
for CLOGGED PRINT HEADS.
This is how I do it on my Canon. You might be able to pull this off on an Epson. You can't on an HP.
If you've put in a new cartridge and cleaned the nozzles several times, and the nozzle check STILL shows a clogged nozzle- I have found that after THOUSANDS (okay, maybe HUNDREDS) of prints, it may be necessary to spray compressed air through the WHITE flow-through delivery sponge. This is the little circular inlet that sits directly under the bottom ink cartridge hole in the print head. I.e.: Take out the ink cartridges and remove the print head.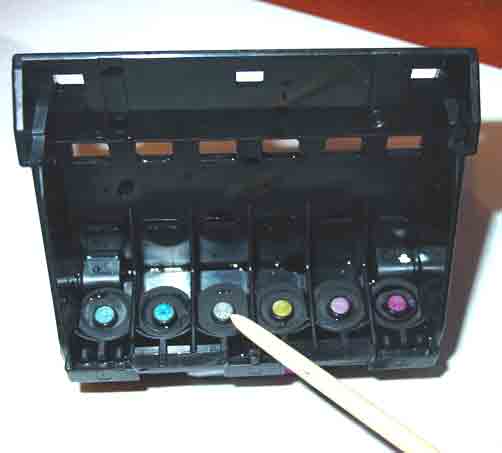 You'll see 6 1/4" holes into which the ink is delivered from the cartridge. Get a can of compressed air and spray from the cartridge side a few short bursts. HOLD A KLEENEX or toilet paper on the outside of the print head where the copper nozzles are- otherwise, you will get ink all over everything as the air cleans out the sponge inlets. Wipe off the outside copper nozzles, because ink will have poured out. No need to use any solvent, just a dry lint free paper. I've used 100% denatured alcohol at times- I don't suggest any other solvent for printer cleaning. Clorox, however, is the only thing that will remove totally inkjet ink stains from plastic housing, counter tops, your fingers- but don't use on important printer parts.
Put your cartridges back in, run a clean cycle to get the ink running again, realign the nozzles, and VOILA- your printer will magically work again.
After two years of printing THOUSANDS of prints with my Canon printers, I have never ever ever replaced a printer head, or had to soak the cartridges or the print head as described below. Air does wonders.
But I pass on the info below just as a matter of options....
ANOTHER SOLUTION FOR STUBBORN CARTS AND CLOGGED PRINTER HEAD
Okay- I do not personally recommend using any solution to clean your Canon nozzle head-- if you have paid attention to all the info on this page, it just should be necessary. However, once in a while if you leave your printer sitting for a long time, a cart may dry out, and will no longer work. One visitor sent me this email and swears by it-- so, if you want to give it a shot if it ever comes up- it's possibly an option. Save it till last however in my opinion:
Subject: Canon cartridges
I have found that I can revive a "dead" Canon cartridge by capping the output orifice with the orange cap and placing the cartridge in a glass of very hot water (just under boiling) for about 20 minutes. When the cartridge cools off, the ink seems to re-enter the sponge material.
Also, I have found that I have been able to clear a clogged print head on S-900 and I-9900 printers by soaking the printhead in very hot water coming out of my kitchen sink for about 20 minutes until all of the water coming out of the print head is clean.
---
WASTE TANK ALMOST FULL ERROR MESSAGE PROBLEM
This is true with many Canon Ink Jet Printers: Eventually, you'll get an error message "Waste Ink Tank Almost Full, Contact Your Canon Repair Center". Canon is totally sly about this, and is actually a pretty ridiculous design flaw that they should be ashamed of- planned obsolescence. Anyway, don't let this problem discourage buying an otherwise fantastic Canon printer. Here's the fix:
he waste ink take is actually just a felt pad that sits under the printer mechanism inside the case and absorbs the ink from your cleanings. From what I gather, its both a time consuming and expensive proposition to take to Canon to fix. And they won't tell people how to do it themselves. Well, I WILL. And this works.
Remember of course, you've got to cycle the cleaning process a huge amount of times to get this to occur.
But when it does, there is a fix-it-yourself solution that is both safe and effective for the printer, and free. You have to be slightly mechanical to do this. If you get this message and you've never used a screwdriver and are all thumbs, well, Canon gotcha. But give it a shot even then, or give it to someone halfway coordinated to do this for you.
1) Figure out how to open the printer by removing the side and inside top plastic panels. Just look at the thing and use your brain. Its all pressure clipped in place, no screws (at least on the S900 and similar models, probably still the same on this years models.) Look for slots and triangles on the 960.

2) No need to remove the ink cartridges in this process- so don't. The mechanism is held down in place in the case by two screws at the very bottom on the outside bottom of the metal chassis inside. Remove these screws then lift up the mechanism. It should lift out fairly easily, but remain attached by wires-- just place it on the top edge of the case.

3) You'll see the blackened (from waste ink) felt pads on the bottom. WEAR GLOVES-- this is skin indelible ink, the only thing that will get it off your hands is CLOROX. Period. There are two skinny pads that sit on top of a larger pad. Note how they fit together.

4) Lift the pads out and rinse out thorough in a sink until very little or no ink comes out. There's no need to use chemical or soap cleaners, just use plain water from the tap and the spray nozzle. Keep rinsing and squeezing the pads, but don't twist them like a towel, squeeze and fold in half however to really get the ink out.

Lay flat in the sun for a few hours to dry. Use a hairdryer to get the last bit of moisture out then replace in the printer, and put everything back together.

5) RESET the printer electronics, so you won't get the stupid "waste ink tank full" message any more. Do an online web search if this doesn't work for your model, although this works (or slight variations0 for many, including the 8200, the S800, and S900 series. Two main buttons on the top of the printer- Power and the Resume:
1) Power off printer
2) Hold RESUME button then press and hold POWER. (The beeper MAY sound once, or may not depending on your model.)
3) Hold POWER and Release RESUME.
4) Press RESUME twice then release both POWER and RESUME buttons.
5) When the indicator lights steady, press RESUME 4 times (for the S900, 3 times for the 8200 apparently).
6) Press power to set data.
7) Print away!
---
NOTES ON Laser Jet TONER REFILLING
After initial non-success with refilling a toner cartridge myself-- I've finally had some good results.
Computer Friends and other companies like Toner Refills sell toner to refill your cartridge yourself.
However, the toner generally doesn't automatically come with instructions, so you'll have to do a little hunting on the internet to find specific instructions for refilling your own brand of cartridge. Try searching Google using some key words like "toner refill instructions 'your brand of printer'". I eventually found the instructions for my Brother cartridge refill and overhaul- but it took a bit of hunting.
I have a Brother 1240 laser printer-- same as their newer 1440-- and previous troubles I had seemed to be fixed by using a can of compressed air and thoroughly spraying every bit of mechanism in the drum assembly I could access. This cleared out debrisand gunk that was preventing the new toner in the cartridge from applying properly. Simply following the toner refill instructions was not enough. And this was quite a fair amount of work taking the cartridge apart and refilling it. Also know that I have occasionallycleaned the drum itself when prints showed excess toner spotting my prints. (The drum is the very shiny green or blue colored electrostatic roller on the inside of the cart, accessible by a little poking around or by removing the toner cartridge portion if it is separate from the drum.) On both the Brother and a previous HP laser jet, I carefully and gently wiped excess toner off with a paper towel and denatured alcohol. This is a fragile part of the cartridge, so don't rub hard or use anything that would cause abrasion to this roller.
On the first and some subsequent refills, one might try simply opening the toner refill hole plug and putting in toner rather than taking the whole unit apart. This can be messy (although toner is dry stuff, it can go everywhere), so do it in the sink or outside first time. Factory toner carts work perfectly, but alas, they are WAY overpriced. A total bogus rip-off. If you can find a reconditioned cart for your LaserJet, try it and see. I alwayshad good luck with HP Laser jet reconditioned carts. But if you are willing to try to actually replace the toner yourself, like ink jet refills- you will save a substantial amount. Again, this seems like a relatively simple operation that is just scares off people who think machines are too complicated to fix themselves. Click your amygdala forward, get a little toner on your fingers, and save hundreds of dollars.
---
Happy printing!
Please link this article to your own web page,
Photo Inkjet Printers, Ink, and Paper Review
URL = http://www.neilslade.com/Ink/inkjetstuff.html


Turn on your own INFINITE brain potential for pleasure, creativity, intelligence, and natural spontaneous paranormal abilities.
Back to The Library From Another Dimension