ONE CASE HISTORY and a few others concerning
Gary Headlee Motherboard Repair
An INTERNET FRAUDULENT COMPUTER REPAIR SCAM CASE
Or
Don't Send Cash Advance Payment for Computer Repair
Just Because the Site Looks Keen
Or
Watch Out For Sheep Logos-- You Just Might End Up Being Another One In Line
Report by Neil Slade
STORY #1:
CONCERNING THEFT OF $50 for alleged repair- not produced- for computer card by
Gary Headlee Motherboard Repair
"Motherboard Repair at Component Level"

Gary Headlee
692 Lennox St.
Midvale, Utah
84047
801-567-9150
(phone number only obtained later after the police were enlisted to follow up on missing money and computer part)

Headlee asks for ADVANCE CASH PAYMENT or MONEY ORDER payment for "repairs", yet
1) Does not give a phone number on his web site,
2) Uses an un-listed untraceable anonymous registration for his web page that does not have any contact information
3) Apparently refuses to reply to any email communications except under threat of law enforcement.
Summary Of My Case:
Gary Headlee Motherboard Repair ripped me off $50 for a "claimed" repair of my ATI 9700 PRO video card, and further made me wait over SIX WEEKS before the card was returned to me, still non-functional. The card is valued at around $200, with a new replacement ATI card costing nearly $300. The card also was fitted with a Zalman silent heat sink valued at $40.
He apparently lied, and made conflicting repair stories about the card on two occasions-- first stating that "I've already spent a couple of hours on your card and haven't figured out what is wrong". See the actual email regarding this below.
Then several weeks later, apparently forgetting his first story, stating, "Your card works fine, I couldn't find anything wrong, but will let it run for a while to make sure its okay."
When the card was finally returned to me after repeated phone calls over a SIX WEEK period, it was still not operational, and Headlee kept the $50 I had sent him in advance for the repair.
Use of another ATI card in my computer's AGP slot produces an expected monitor result without any adjustment. Use of the "repaired" card produces absolutely NOTHING on the monitor- the card is DEAD. All of my motherboard's latest drivers and chipset drivers have been installed. It's not my computer- its the card- it's DEAD and every bit of information I have points to Headlee lying about it working while he had the card.
Independent inspection of the card by a professional computer repair technician on the following day it finally arrived here six weeks after sending to Headlee substantiated that the card was still not operational.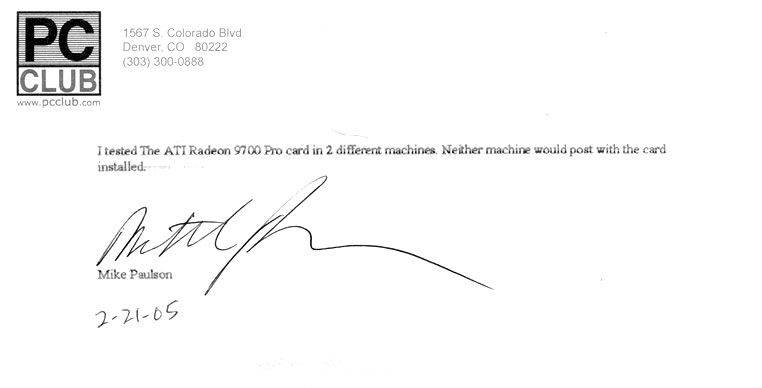 I discourage ANYONE from doing ANY business with Mr. Headlee and instead encourage simple replacement of a broken motherboard, or use of warranty if available.
The owner/registrar of www.motherboardrepair.com (Headlee's website) is completely fictional, with no contact information- a search on www.whois.com brings up the following information:
Registration Service Provided By: Registerfly.com
Contact: support@registerflysupport.com
Visit: http://www.RegisterFly.com

Domain name: motherboardrepair.com

Registrant Contact:
XenoCorp International
Mutsu Xenolith0 (Xenolith0)
(000)000-0000
Fax: (000)000-0000
000 0 Lane
Ville, Xenoland 00001
SD

Administrative Contact:
XenoCorp International
Mutsu Xenolith0 (Xenolith0)
(000)000-0000
Fax: (000)000-0000
000 0 Lane
Ville, Xenoland 00001
SD

Technical Contact:
XenoCorp International
Mutsu Mutsu (Xenolith0)
(000)000-0000
Fax: (000)000-0000
000 0 Lane
Ville, NA 00001
SD

Billing Contact:
XenoCorp International
Mutsu Xenolith0 (Xenolith0)
(000)000-0000
Fax: (000)000-0000
000 0 Lane
Ville, Xenoland 00001
SD

Status: Locked

Name Servers:
ns1.hostultra.com
ns2.hostultra.com

Creation date: 17 Jun 2003 00:00:00
Expiration date: 17 Jun 2005 00:00:00

The data in this whois database is provided to you for information
purposes only, that is, to assist you in obtaining information about or
related to a domain name registration record. We make this information
available "as is," and do not guarantee its accuracy. By submitting a
whois query, you agree that you will use this data only for lawful
purposes and that, under no circumstances will you use this data to: (1)
enable high volume, automated, electronic processes that stress or load
this whois database system providing you this information; or (2) allow,
enable, or otherwise support the transmission of mass unsolicited,
commercial advertising or solicitations via direct mail, electronic
mail, or by telephone. The compilation, repackaging, dissemination or
other use of this data is expressly prohibited without prior written
consent from us. The registrar of record is eNom. We reserve the right
to modify these terms at any time. By submitting this query, you agree
to abide by these terms.
Version 6.3 4/3/2002
CASE HISTORY:
JANUARY 4, 2005
The first week of January 2005 I sent in my video card for repair after viewing Headlee's web site at
http://www.motherboardrepair.com/
It looked like a respectable web site, and well documented. I sent Headlee an email regarding my possible card repair, but did not receive a reply.
None the less (and a VERY STUPID MOVE, I must admit) I followed the instructions on the web site for video card repair and sent. I sent it in with delivery confirmation via priority mail on Jan 4, 2005, and the requested $50 repair fee in cash- the excess which would be refunded if the repair did not require a lot of work.
The web site stated 1-2 day turn-around for repairs.
Delivery confirmation showed that Headlee received the card two days later on Jan 6.
JANUARY 17, 2005
After waiting TWO WEEKS and not receiving ANY replies to my emails, nor receiving my card back, or ANY COMMUNICATION whatsoever, I set out to find a phone number for Headlee.
Headlee's phone is untraceable, and unlisted, and can not be found anywhere on the Internet.
My last resort was to call The Midvale Utah Police and report what had happened. They instructed me to contact my local Denver Police and report THEFT OF SERVICES. They then told me to have my local police contact them, and they would contact Headlee if possible and look into the matter.
My local police then contacted the police in MIDVALE UTAH, who then contacted Headlee immediately- and FINALLY apparently under threat of law enforcement action he contacted me by phone. He then offered a number of excuses why he had not looked at my card yet. He then said he would look at it in 3-4 days and would email me with the results. This was around January 17.
A week went by and Headlee made absolutely no contact again.
FEBRUARY 4, 2005
I began sending a series of emails to Headlee's email address (from his web site) capman@att.net since he did not leave a phone number when he called back.
After sending at least a dozen emails, and finally an EXPRESS MAIL TRACKABLE LETTER DEMANDING RETURN OF MY CARD Headlee finally replied with an email, and left his phone number.
I then called him to see what was going on, and he claimed to have already spent a couple hours working on my card, but to no avail, and that he would try to complete work on it in the following week.
Here are his original emails sent to me on Feb. 4:
----- Original Message -----
Sent: Friday, February 04, 2005 5:47 PM
Subject: Re: WHERE IS MY VIDEO CARD PLEASE?
I do understand the way you feel (I have been in the electronics repair buis for 35+ years), will do my best to stay in contact and repair your card.
Working out of the home has some big drawbacks..... number one drawback is that the family doesn't think I am at work, so they ask questions & favors several times each work day, add a few freinds dropping by, an emergency or two and the day is gone with no real work produced. Today alone I spent 3 hours at the vet as a favor to my son and his sick cat............... If I add the vet bill alone with lost wages for the 3 hours...........the cat had more money this week than I did.
Sorry for the poor comunications,
Gary--
Don't forget to put my website in
your favorites:
http://www.motherboardrepair.com

My home phone # is 801-567-9150 I
am usually available between
10:30am ~5:30pm MST
Sent: Friday, February 04, 2005 2:58 PM
Subject: Re: WHERE IS MY VIDEO CARD PLEASE?
Hello,
I tried to call you 2 times today, however the line was busy.
I have spent a couple of hours on your video card, the problem seems to be quite elusive.
I hope to make progress within a few more days.
Video cards take last priority over all my other work, that is the only way I can maintain a 2~3 days turn-around for my motherboard customers.
After I finish your card, I will no longer accept video cards for repair and will remove the video card section from my web page. You are correct, I am not able to provide a high quality of service for my video card customers and no hobby is worth having the police come to my door. I know of no-one else that even attempts to repair video cards...... now there will be none.
I will be home late this afternoon if you wish to call me,
Gary Headlee
--
Don't forget to put my website in
your favorites:
http://www.motherboardrepair.com

My home phone # is 801-567-9150 I
am usually available between
10:30am ~5:30pm MST
FEBRUARY 16, 2005
Still no card, no news from Headlee. I send him the following email, to which I receive no reply.
ATI 9700 Pro card with Zalman cooler



Dear Gary,

Its now been SIX WEEKS since my video card arrived at your home for repair-

Please return it today, repaired or not, and send a delivery confirmation tracking number.

If the card is not repaired, kindly return my $50 cash.

I will expect to see my card delivered here by Saturday latest.

Thanks

Neil Slade

303-399-0418
I finally got Headlee to answer his phone, and he said my card would be looked at right after he finished his current other repair job. There was no mention of his claimed previous "couple of hours spent on the card repair" from January.
I called two days later- and Headlee had STILL NOT TRIED TO REPAIR MY CARD. His excuse this time was "I had to spent the weekend with my girlfriend for Valentine's Day". He said he now would look at the card.
I called the following day, and Headlee claimed the card was working perfectly (no mention of any work done save his claim that he spotted loose solder connections that day, which he claimed to repair.) There was no claim or mention of previous "couple hours work", since he apparently forgot his previous email and claim that he couldn't get the card to work. He said he would let the card run for a while to make sure it was okay, and then send it back.
The card arrived via priority mail on February 19, 2005 forty five days after it arrived at his home.
The card shows no evidence of repair of solder connections anywhere, and the card still does not function. This has been confirmed by an independent professional computer repair tech- the card is DEAD, still.
Headlee sent no email explaining the so-called repair, sent no invoice, and kept the entire $50 cash sent to him by me.
I have demanded the full return of my $50 payment, as there is no mention of a $50 diagnosis fee for an un-repaired card by Headlee on his site.
Upon final contact, Headlee refuses to honor his so-called ONE YEAR GUARANTEE, and refuses to refund my $50.
Word is it that Headlee has done some good work. But he's also done very bad. Ready to take your gamble?
See other's below.
Are you next?
If anyone has had similar experiences with Headlee, please contact:
Denver, CO
Thanks to Carey Holzman of www.CareyHolzman.com who has moved his links that will no longer point to Headlee's site , but now come to this page. Carey sent the following note to me as well after trying to reason with Headlee to send a refund for my non-repair job.....
----- Original Message -----
Sent: Monday, February 21, 2005 12:20 PM
Subject: RE: Ripoff- Gary Headlee Motherboard Repair
> HI Neil.
>
> Thanks for the update. I'm sorry that all this has happened. How did you
> find Gary in the first place? Was it on my web-page?
>
> I've received a reply from Gary and I find it unsatisfactory. I have sent
> him a reply, however, I doubt he is going to have a change of heart.
>
> I would suggest you wait no further and proceed with filing charges against
> him. Do whatever you can to wake him up to the responsibility he owes to his
> customers.
>
> While he appears to be a very talented technician when it comes to fixing
> motherboards, he has no clue how to fix people, and that's 50% of running a
> business. Now he can spend even more than your refund defending himself,
> requiring time taken away from other money-making work, and reducing the
> work as people learn of this story and take their business else where.
>
> In short, he is unwilling to invest $50 in his business, which to me, is a
> sign of someone planning to shut the business down. To stand by a policy he
> has, that you did not sign or agree to, rather than just make the customer
> happy, is to me, immature and irresponsible. I have a conscience and I have
> no idea how he can sleep at night.
>

Story #2
-----Original Message-----
From: James Dutch [mailto:jamesdutch@adelphia.net]
Sent: Tuesday, October 19, 2004 6:34 PM
To: carey@careyholzman.com
Subject: Motherboard

How well do you know Gary Headlee? I sent him a motheboard for repair. One
day after mailing him the MB, HP contacted me and stated that they would
repair the MB for free. I immediately e-mailed Gary Headlee and asked him
not to repair the motherboard and to return it to me. I enclosed a check
with the MB along with my e-mail address. I received one e-mail from him
asking what kind of MB it was. I e-mailed the information back to him. One
week after mailing the MB to him I checked with my bank and found that the
check I sent had been cashed. I have sent numerous e-mails to him and he
has not responded to any of them. I also tried to telephone him but he was
not at the number that I was given. If this is the way he runs his business
I would not have a link to his website on my website. I certainly won't
deal with him again!!

***
STORY #3
> -----Original Message-----
> From: Kurt vonKnipper [mailto:kurtv782@comcast.net]
> Sent: Tuesday, March 23, 2004 6:41 PM
> To: carey@careyholzman.com
> Subject: Trying to reach Gary Headlee
>
> Hi Carey,
>
> I am trying to reach Gary Headlee. I see you both link to each
> other on your websites and thought perhaps you were friends.
>
> He has had a motherboard (Abit SA6R) that I need for my wife's
> business for over two weeks and has not answered any emails since the 14th of
> this month. I have called his home and an elderly woman answered and said she
> didn't know where he was or if he could be reached. She said she would
> have him call me if she could contact him and hung up before I could give her
> my number.
>
> He has my motherboard and payment for the repair and is evidently
> unreachable. I am of course getting quite concerned to put it
> mildly.
>
> If you have anything you know or would be willing to tell me, I
> would be most appreciative.
>
> Thank You,
>
> Kurt vonKnipper
***
-----Original Message-----
> From: Kurt vonKnipper [mailto:kurtv782@comcast.net]
> Sent: Wednesday, March 24, 2004 12:53 PM
> To: Carey Holzman
> Subject: Re: Trying to reach Gary Headlee
>
> Hi Carey,
>
> Thanks very much for the reply. Perhaps he is ill. What concerned
> me however, was the statement by the woman who answered the phone that
> she didn't know where he was or how to reach him.
>
> All I can do is wait this out.
>
> Thanks again,
> Kurt
***
> -----Original Message-----
> From: Kurt vonKnipper [mailto:kurtv782@comcast.net]
> Sent: Saturday, July 31, 2004 4:04 PM
> To: Carey Holzman
> Subject: Re: Trying to reach Gary Headlee
>
> Yes, quite a period of time went by and I sent him a nasty email he finally
> read. It got his attention as I'd hoped it would, and we exchanged a few
> emails. I told him his communication skills sucked and he agreed.

If you've got another Headlee the Headless Repairman Story- send it-