(This and all subsequent page subject to updating as time allows - return for updates and edits and additions....)
---
Its been years and years and years since I've done any serious traveling, so this is a real treat for me. Other than a short excursion to Taos and Santa Fe (one day down there) Its been at least a decade since I've gone anywhere substantial out of Colorado.....Yippee! where shall I go.....
The first order of business, of course is to get everything ready. This consists of a short list of about ten million things, as I'm not used to leaving the house for more than a few hours. Of course, everything goes wrong that can- to start, my key breaks off in the front door door knob, the house is essentially a messy wreck, the business computer is throwing fits, etc, etc, ETC. By the time its all taken care of it is three days later than I expected to leave.
Finally, no matter, all is taken care of, and my house is clean. THIS is the main thing that bugs me, as I know if I leave a messy house I will think of nothing else except the state of my domestic fung shui on the road and what will be awaiting upon my return.
One thing different than originally planned-I expected to go computerless, but as the amount of email and book requests seems consistent, I decide to opt for getting a laptop to take with me so not to lose touch with new and old Brain Explorers alike. I spend DAYS trying to figure out what to get, get one, take it back (on second thought it's too expensive- gadzoks!) and eventually settle on a store demo at a ridiculously reasonable price-- found using the dependable frontal lobes Brain Radar. OF course, it takes hours and hours and HOURS to set up properly (so what else is new...) and to my dismay, minutes before I should be leaving, I find that the modem is connecting at the whopping speed of 4800 Kps (an hour to download a single picture of say, Bullwinkle the Moose). Man oh man. Now I know why it was a bargain.
At this point, FINALLY, the car is completely packed, dogs in the back seat, my reservations made 300 miles away, and no way to get online (except at the speed of a drunk snail) with my new computer. I head over to Comp USA (where I got the thing) to tell my tale of "whoa!", and eventually we all figure out (talking with Sony long distance) that I need to get a new updated driver (software) for the modem. The one that shipped out with my machine was found- as countless others discovered before me- to be worthless. The Sony tech assures me that this was a common, yet unfortunately unforeseen problem with my model, and the free downloadable software off the internet will fix the problem, solution found.
I sigh a big sign of relief, confidently (?) knowing that I have not wasted days and dollars on my modern communication convenience, and I finally get on the highway going west. (PS, yes, I plugged in at my motel that night, and the web upload indeed worked along with the rest of the laptop...whew.)
---
The drive on the first day west is essentially uneventful as most of the lands hundreds of miles west of Denver on the Interstate are familiar to a degree. What is MOST interesting is the audio book I'm listening to (among a stack of a dozen unabridged audio books). I'm listening to Issac Asimov's Forward the Foundation. It is the last of a series of science fiction novels he wrote that he started at age 21 and finally ended just before his death at age 72. Asimov is considered the father of modern science fiction as well as being known for having written something like a billion books. His glasses were about an inch thick, and I think this is probably due to his inability to walk away from his typewriter and having most of his life occur at elbows length away. I've heard abridged versions of "Foundation" before, and listening to the entire book makes the daunting task of driving across the country quite enjoyable. It's only a week later that I finally get through the entire 12 cassette set, having enjoyed every minute of it. (90 minutes per cassette- giving you and idea of how much driving is involved)
---
My two Brain Helpers on this adventure are, of course, Erfie (top) and Chloe.

It's "The Erfie and The Chloe Show!"
Always smiling, especially around supper time and at walks, Erfie and Chloe are the perfect companions for any extended holiday, and life in general. They don't eat much and exude an endless amount of cheerfulness and true intelligence. Of the two, however, I soon learn the smaller Chloe is a better traveler, as she chooses to sleep when the minutes turn into hours on the road. Erfie, on the other hand, insists on watching every telephone pole go by, and after he's had a few hours of this, insists upon sitting on my lap until he's convinced me its time to stop the car.
Below, I show them in the Lotus, which I've wisely chosen to leave in the garage at home this trip, and opted for the roomier and quieter Honda Civic Hatchback (not shown), much more conducive to human and canine travel over distances of 100 miles or greater. The Honda doesn't corner nearly as well, but your brain is not fried after 5 hours on the highway.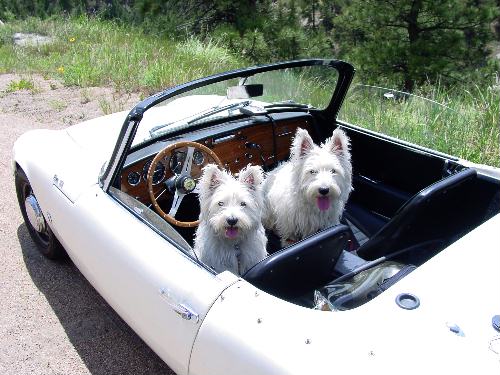 Sport Dogs
As to those interested, Erfie and Chloe joined my family a year ago, coming from the local Westie Rescue Society. The are orphans of the highest quality, a couple of West Highland White Terries (brother and sister)who were rejected by a divorcing couple with four dogs. Stupid for them, great for me. Erfie and Chloe are the best people in the universe. They are mostly extremely healthy vegetarians (getting primo Nature brand (perfectly balanced) vegetarian dog food, supplemented with regular oatmeal and vegetables, along with the not too infrequent bits of organic chicken my mother insists on giving them on visits to her house. They like Mom.
Erfie and Chloe are smile machines. All I have to do is walk with them within 20 yards of anybody, and people begin to point, laugh and smile. People always ask me if you can click somebody else's amygdala forward. Well, these dogs do it constantly.
No real "scenery" to show on the first day- but just wait till tomorrow.....! Unbelievable-----