Julia Lu (she did the Chinese language translation of the Frontal Lobes Supercharge a couple of years back- see Chinese Supercharge ) and I visited T.D. Lingo's wilderness brain lab property this weekend for a WONDERFUL Brain Adventure --



The Dormant Brain Research and Development Laboratory is where researcher Lingo worked for 35 years developing methods of brain self-control, by which any person could increase creativity, intelligence, and pleasure by self controlling specific areas of the brain, and consciously and easily (like clicking a light switch) control brain function-- somewhat in the manner of driving one's car to a desired destination. Only brain self-control means driving to goals, and positive emotions- like we drove to the top of Squaw Pass here for a stupendous view of the Continental Divide...



So the question is...

"Where do you want to go? "




Without brain self-control, the destination is uncertain, or has overwhelming random input...

With brain self-control, the destination is more certain and predictable.



In simple terms, you find yourself at the right place at the right time. Your brain radar keeps you on target.

Without simple knowledge of how one's brain works, unexpected twists and turns and life's jack-in-the-box land mines blasts one into further chaos and ruin.

For those who know how their brain works, surprise still happens, but it punctuates life experience with delight.

Big difference.

It's easy. We taught first graders brain self-control.



TO FIND THE BRAINLAB on a 3D Map

1) Download GOOGLE EARTH and Install on your computer

2) Download this Google Earth file Brain Lab Map (right click and "save link as" or "save target as")

3) Open the file on your computer (It should open Google Earth) You can zoom in, see the trails, see where all the original buildings stood. Bear in mind, this satellite photo map picture was taken after 2005, so the lab property had some new roads, and all of the aspen trees do not appear because of the nature of the mapping- yes, they are still all there as in the photos on this page. For more photos of the brain lab go to Original Brain Lab Photo Tour and Brain Lab Photos 2004

You can manipulate the Google Earth map in many ways, both in angle (to show 3D) and other ways by clicking on the upper right hand portion of the screen



Here's a photo of the brain lab as we approached from the road a few miles away....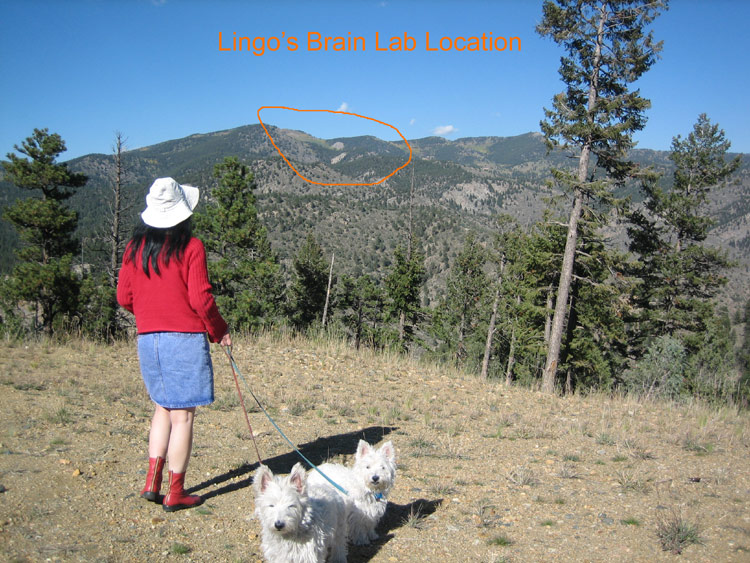 We were reminded of the potential of the human brain/mind when we settled into the peaceful tranquility of nature on the old brain lab property-- our consciousness melted into perfect beautiful balance sitting on the wild grass, shaded by the golden shimmering aspen trees. The air was clean- unbelievably clean-- you forget what clean air "smells" like when you are in the city day after day -

One of the original research cabins still stands in an aspen grove.....





View south and east from the lab, at 10,000 feet elevation- high above the insanity of "civilization"....


When you "tune in" to your frontal lobes, your frontal lobes intelligence guides you to the proper environment and meditation is effortless-- inner harmony is natural....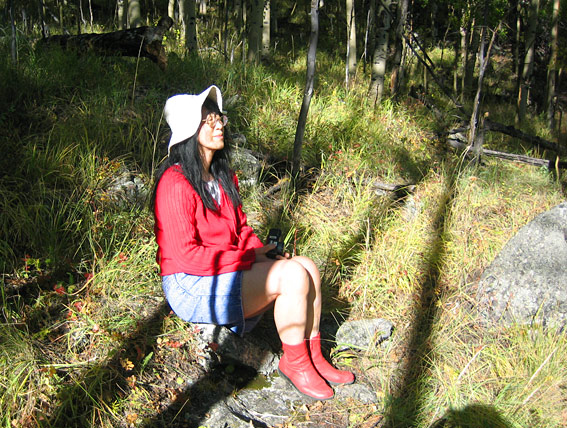 When you understand and AUTOMATICALLY "click your amygdala forward"-- you click out of typical "dog-eat-dog", "me me me"
Enron CEO greed reptile war consciousness---

and instead into
Advanced Interplanetary Cooperative Paranormal Intelligence




See our Cooperation Interspecies Brain Lab Dance
(Windows Media Video 3 MB)

BRAIN FUN all day!! Every Day!! Even in the city....


What will your dance look like today?

: