Learn to paint ANYTHING Professional Quality

New And IMPROVED 5/16/2007
Highly EXPANDED INSTRUCTIONS
INSTANT DOWNLOAD eBOOK and VIDEO
Streaming and Download Right off the Web
(hard physical mailed copies also available)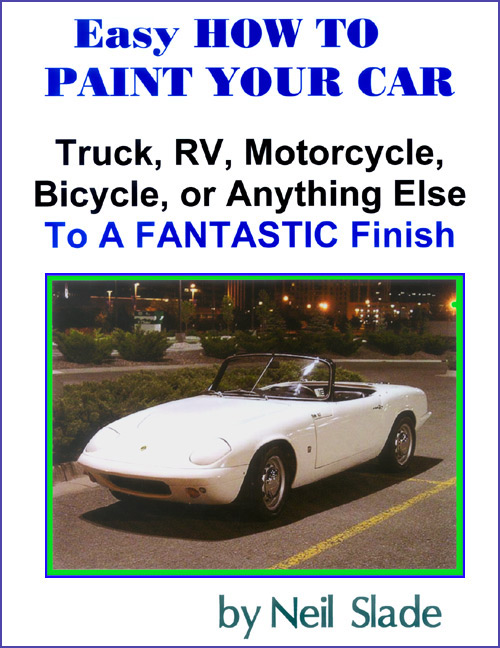 "An indispensable hands-on manual for people wanting to do an expert and easy job of painting their own car or anything else on wheels! Slade is an absolute genius in putting this together- There is nothing else like it, ANYWHERE..."
- Craig Simpson, ex-pro automotive refinisher
Order ONLINE INSTANT DOWNLOAD
CLICK HERE for Special Online Download Price $9.95 All Locations
All Cards Accepted Through Paypal Portal- No Paypal Account Needed- Instant Download
All Cards Accepted Through Paypal Portal- No Paypal Account Needed
Your download is AUTOMATICALLY sent to the email YOU PAY WITH on the ORDER
If you need your download sent to another address than the Paypal address please
email neil@neilslade.com after your order payment is made and tell me- thanks
Please check your junk or spam boxes, sometimes downloads end up there, especially Yahoo email accounts which almost always sees the instant download reply as spam. Yahoo email people, please let me know if your instant download reply doesn't show.
5) To pay, use the Paypal portal even without a Paypal account (you do NOT have to join)
PREVIEW Fimished Surface VIDEO #1 Windows Media Player
PREVIEW Introduction VIDEO #2 Windows Media Player
Contains:
1) 80-Page Printable and Computer Viewable Illustrated Online eBook Manual
2) 62 Minutes of Windows Media Video Demonstration Clips
3) 12 Detailed Still Photo Images of Finished Demonstration Surfaces
Complete~!
This is the absolute totally Affordable COMPLETE Guide to Painting Your Car, Truck, Boat, Motorcycle, Bicycle or anything else. Includes body surface repair of dents, rust, and holes for metal or fiberglass. Learn to paint indoors, outdoors, any time of year, with a minimum of expense and equipment- for SUPERIOR results.
----- Original Message -----
From: David Guest
To: Neil Slade
Sent: Monday, November 13, 2006 9:30 AM
Subject: Re: paint DVD
Neil,
Everthing came in and it is better than expected, thanks again.

-David Logan Guest

* * *
Original Message -----
From: DolfanPC@aaa.com
To: neil@neilslade.com
Sent: Thursday, November 09, 2006 8:30 AM

Neil,
Received your package, yesterday. I watched your video last night; you do a very good presentation- simple, easy to digest.
-Sincerely, Pete Christie, Chuluota, FL
From: brolaxxxxxx@aol.com
To: neil@neilslade.com
Subject: just bought how to paint car

loved the dvd, very clear and easy to follow.... i have a 92 bmw 525i ... thank you very much. your video was great and i will be recommending the site to my friends- it is very refreshing to have a businessman who has a web site and actually responds to his customers questions.. and does it immediately! AMAZING!
brandon
The COMPLETE and Easy-to-Understand fully detailed printable EBOOK PDF manual with over ONE HOUR of Windows Media Player VIDEO content. PREVIEW VIDEO #1 Windows Media Player


Contains the best explanation for all levels, from first time beginner to experienced painters.

Everything you need to know about painting your car is made simple, and practical.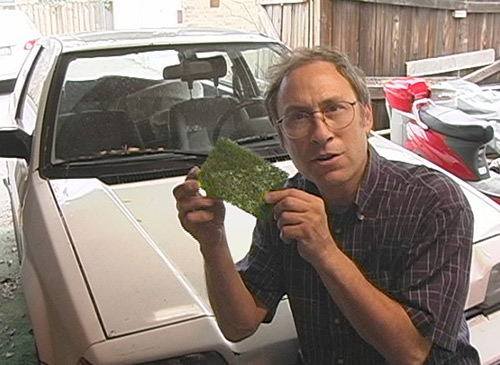 Chapters:
1) Introduction
2) Painting Environment Options
3) Additional Tips and Technology History
4) Materials List
5) Materials Photos
6) Painting Procedure Outline
7) Sanding and Body Filler Materials and Tools
8) Surface Preparation and Repair
9) Primer: Mixing and Applying
10) Color and Clear Coats: Mixing and Applying
11) Smart Clean Up
12) The Finished Product
13) Finish Polishing

You can put a new everyday durable finish on your car that is better than the budget shops offer at a fraction of the price, or just do the body work and leave the spraying to the shops and save hundreds or even thousands of dollars.

You can also learn how to put on the highest grade show car level finish, suitable for any valuable collector car.

Every detail is explained with dozens of color photos, and easy to understand text in a 45 page printable and computer viewable eBook manual. AND each step of the way is clearly shown in a demonstration VIDEO.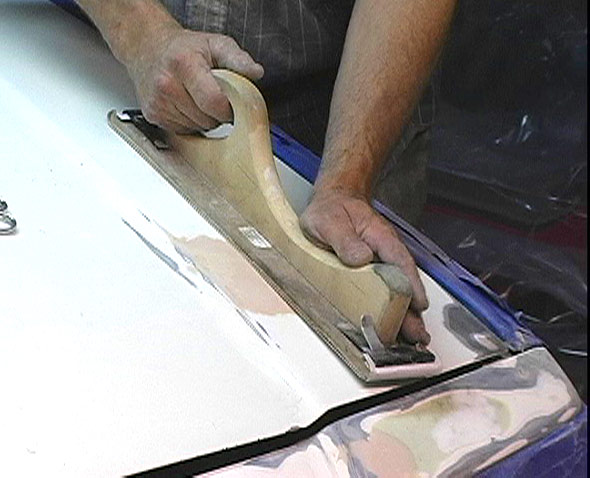 Neil Slade is an internationally known author of 6 books, a feature film, and 20 audio CDs. His web page on car painting is the #1 search result on Google "How To Paint Your Car" for a reason-- Its' the BEST way to learn painting!
You would have to be crazy to pass this up! This is the Best, Quickest, Most Useful, Most Affordable, and Easiest way to learn to do a GREAT paint job- LEARN FROM AN EXPERT now! How To Paint Your Car- Hassle Free!