A MID WINTER REBUILD and PAINT MIRACLE
A new repair job necessary January 2008
From This:
To This (Done In My Car Port):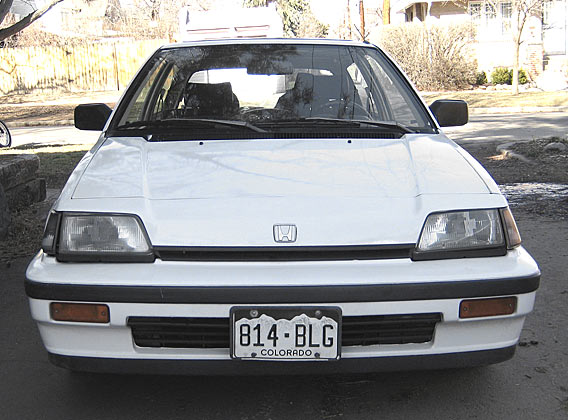 Here's the story:
In addition to having done repair work on this section of this car about a year before (shown in this site), the supreme irony was that I had just finished repainting the ENTIRE car one month prior, in November of 2007. OW~!!!
In December I slid on some ice into a car that had suddenly stopped dead in the middle of a main thoroughfare-- they didn't have working brake lights.
Consequently, I TOTALLY destroyed the front body work of my car. This included complete destruction of the passenger front fender, front header (above the bumper), hood, and passenger headlight and signal, plastic grill, as well as substantial damage to the interior frame radiator support, and slight bending of the bumper supports.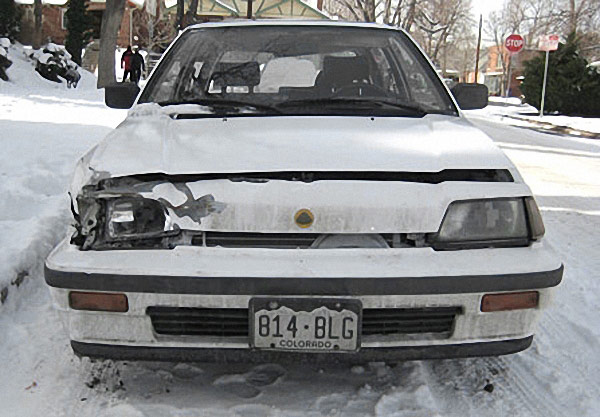 Had I only been able to take the car into a body shop, it would have cost THOUSANDS to fix.
As it was, I did it myself in a few hours for under $300 using the exact methods outlined on this site, including the parts and paint.
Any insurance company would have said "forget it, here's nothing for you car". Knowing this in advance, since this car was already 21 years old, I had only liability insurance, and so I in fact got NOTHING for the collision.
But I slept on it a couple of nights and thought, what the heck, let's see what I can do. The car was otherwise in EXCELLENT running condition, and finding another used car of any age in equivalent shape would have also cost thousands. And I loved this car: great handling, cargo, size, and looks.
My research: A frame shop wanted to replace the entire radiator support-- this alone would have been over $300 just for starters.
Instead, my friend Bobby and I got together are started yanking at the radiator support after removing all the ruined body parts, and we managed after five or ten minutes to bend the radiator support back into line using some steel rods and a crowbar. This is AFTER our bending, Cost? $0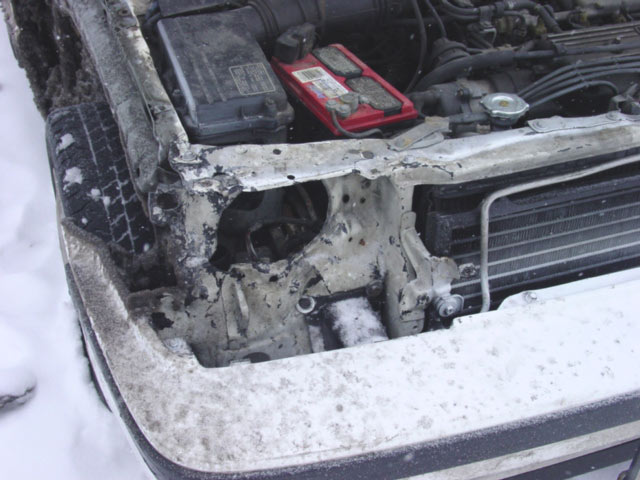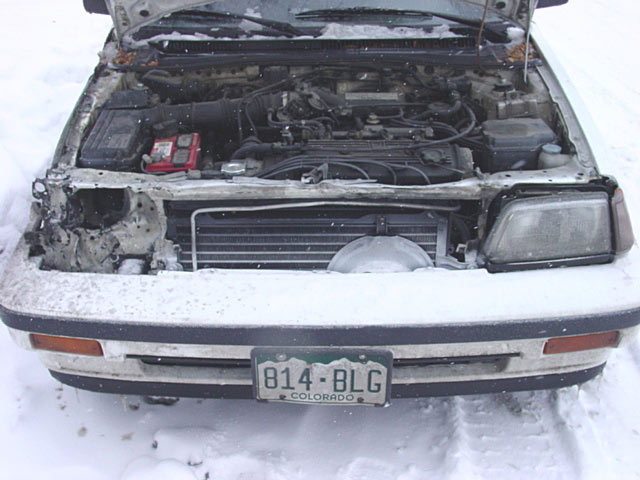 Next, I sprayed the damaged but re-bent support with some primer to protect it. Already things were looking more optimistic.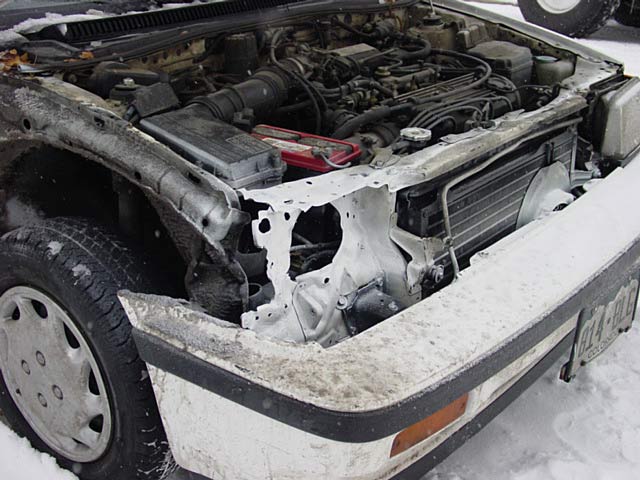 I then removed the bumper and straightened the bumper supports so the bumper would sit straight off the car again.
The next step was to find a replacement fender, header and lights. Not an impossible feat for an 1986 Honda, but it took a little bit of looking. Eventually I found all the parts I needed and the cost for a header, lights, and fender was roughly $175. I put them on as shown here: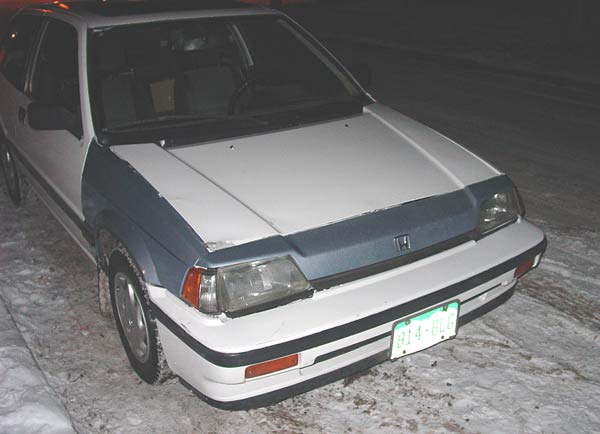 The bumper itself was not damaged except for a bit of paint scraped off. The corner of the hood was bent quite a bit, and ultimately I went to a PULL IT YOURSELF junkyard, and found a new hood for $50 and just replaced the hood as well.
I could have done body work on the hood corner, but for $50 I got a perfect hood, and it saved me a few hours of body work just to simply replace it and spray the new hood.
At the Pull It Yourself junkyard (you go and find a wreck like your car, and then pull off the parts you need), I ended up buying several parts, including a new driver's side headlamp, and a half dozen other parts. By the time I was done with my completed paint job on the replacement body parts, my car was actually in much better condition, as there were many small things that I had let go for a while, that were now fixed.
As you can see below-- it turned out great. The painting was done in REALLY COLD WEATHER in January, inside my car port, at temperatures that pushed the limits of car painting. I had a couple of heaters going inside the car port and plastic up to keep the wind out, but probably the temperature was in the mid 40's at best.
NOTE: I removed the body parts and painted them OFF the car, then replaced.
Here's the finished job, shown about a month later on a nice 60 degree day in February. Nice and shiny and smooth, and no finish sanding or buffing needed: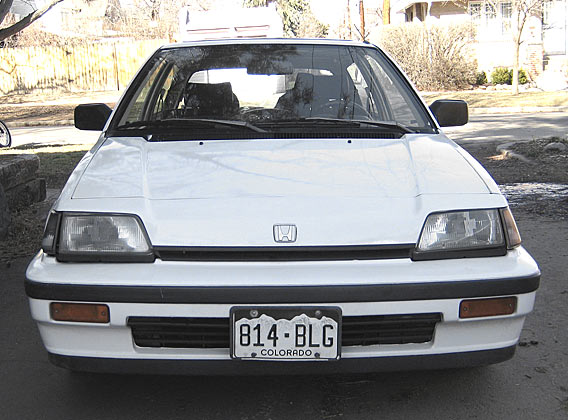 Collecting the parts I needed took a few hours, and painting took less than two hours. Total cost was under $300, and I had plenty of paint left over for touch ups for this and my Lotus (same paint).
Bending everything into place, like the radiator support and bumper, took a little time. But considering that any insurance company would have simply "totalled" this car after this accident, giving me virtually nothing-- this fix up job was a real MIRACLE.
I saved a 21 year old car, that frankly still runs like new, and should serve me well for as long as I manage to keep from bashing it up in another wreck again!
:-)